The Canadian Space Agency Begins Design of Canadarm3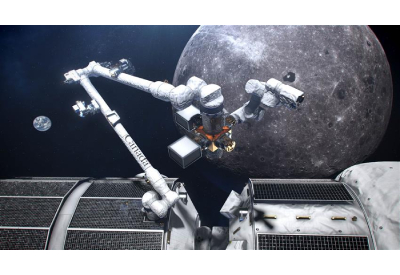 March 10, 2022
Leveraging a 40-year legacy of leadership in space robotics, the Government of Canada continues work on Canadarm3, the Canadian-made robotics system destined for the Lunar Gateway.
Brampton-based company MacDonald, Dettwiler and Associates Ltd. (MDA) will receive $268.9 million to begin the preliminary design of Canadarm3. The investment also includes funding to procure some of Canadarm3's components.
MDA will work with companies across the country to drive innovation and research and development in emerging technologies while developing the robotic system. A broad range of Canadian companies will be part of the Canadarm3 supply chain, spurring investments in key industrial capabilities within Canada's space sector.
Integrating sophisticated machine vision, cutting-edge software and advances in artificial intelligence, Canadarm3 will be critical to NASA's Artemis program. The highly autonomous robotics system will maintain, repair and inspect the Lunar Gateway, as well as capture visiting vehicles, help astronauts during spacewalks, and support science both in lunar orbit and on the surface of the Moon. The target date for delivering Canadarm3 to the Gateway is 2027.