Siemens Reimagines Canadian Headquarters For 110th Anniversary with Customer Co-Creation at Its Core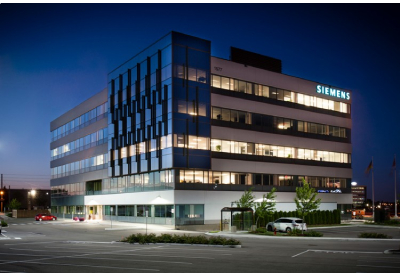 July 11, 2022
Customers and employees, as well as special guest Oakville Mayor Rob Burton were on hand at Siemens Canada's headquarters for the unveiling of a newly renovated office focused on a co-creation environment. During the pandemic Siemens used the opportunity with many employees working safely from home to convert a substantial portion of its Oakville headquarters to create a showcase for Siemens' technologies that address climate change, the 4th Industrial revolution, and digitalization across different sectors.
"We have created a smart space where our customers and partners can come together and co-create solutions to address some of the biggest challenges society faces today," said Faisal Kazi, President and CEO, Siemens Canada. "Our building is now a living lab for Siemens' technologies in the areas of energy transition, smart buildings, electric mobility and digitalization."
Renovations also focused on optimizing the "new normal" way of hybrid working centered around business needs and team activities. Additional collaboration spaces have been created and communication technology implemented to assist employees in working from anywhere. A reimagined cafeteria offers self-serve meals, snacks and beverages with vegan, gluten free, dairy free, and halal options. The physical cafeteria space transforms to host town halls, live streamed events, and employee celebrations.
Siemens globally has a working policy standard of 2-3 days from office and 2-3 days from home. The welcoming back of employees and customers to the office also coincides with the 110th anniversary of Siemens in Canada, officially happening on August 29, 2022.
"The ingenuity involved in the creation of this state-of-the-art living lab is a fine example of how Siemens continues to innovate, not just in technology, but in addressing the "new normal" and the changing nature of work," said Mayor Rob Burton, Town of Oakville. "Our community and I are proud that this innovation is taking place at the Siemens Canada corporate headquarters in Oakville."
Additional highlights of the newly reimagined space include:

•Cognisphere Centre – customer showcase for Siemens' electrical grid infrastructure portfolio for low and medium voltage power distribution from electric vehicles chargers to low voltage load centers, gas insulated switchgear and protection and control devices.
•Inspiration Centre – collaboration and production space equipped to broadcast live streamed events, record professional quality videos and present multi-media content.
•Solar Smart Flower Microgrid – unlike traditional solar panels, these solar-powered microgrids follow the trajectory of the sun during the day, maximizing the amount of electricity absorbed. The Smart Flower produces clean energy and offsets energy costs.
IoT building applications– sensors provide real-time data which Siemens uses to make smarter decisions in managing lighting, HVAC, space, and safety while reducing the carbon footprint of the building at the same time.
•Mindsphere Application Centre – customer co-creation facility for leveraging the potential for data with a focus on smart energy grids, smart buildings, and industry digitalization solutions.