Meeting the Steepest of Challenges on the Pilatus Bahn
ABB traction converters are powering new trains up the Swiss Pilatus Bahn, the world's steepest cogwheel railway.
July 25, 2023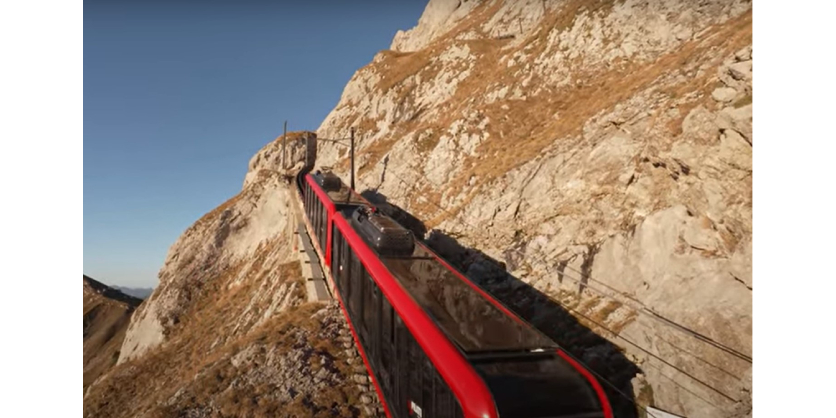 A new, more energy-efficient fleet of railcars is now bringing thousands of visitors to the top of the Pilatus, a very popular destination in Switzerland. The 4.6 kilometer route, operated by the Pilatus Bahnen, is the world's steepest cogwheel railway with a gradient of up to 48 percent. The journey between Alpnachstad and the end station Pilatus Kulm reaches an elevation of 2073 meters and offers expansive views across Central Switzerland. The rack railway covers almost 1,700 meters in altitude gain with an average gradient of 35 percent and a maximum gradient of 48 percent.

ABB drive technology is contributing to more efficient, reliable and sustainable rail operations on the line. Using ABB's energy-efficient traction converters, the new rack-and-pinion railcars consume 30 percent less energy than the previous generation of trains. Also, when the train brakes, the kinetic energy is converted into electricity rather than being wasted in heat. Thus, during braking, the electrical energy generated is fed back into the grid and available to use for the ascent.
Related Story
ABB is helping to prepare students for future of work. The future of work is changing. Automated technologies are increasingly a part of the working world, which requires a new generation of tech-savvy employees who can master the technologies and find new ways to work with them.
For both current and future workers, the challenge is to ensure that their skillsets are complementary to automated technologies, allowing them to use the technologies to find ways to make themselves more productive. With its extensive experience and portfolio of robotic solutions, ABB is assisting educational institutions with the training needed to teach robotic and automation skills to today's students who become tomorrow's workers.