German Chancellor Inaugurates "Learning Factory Industry 4.0" at ABB in Berlin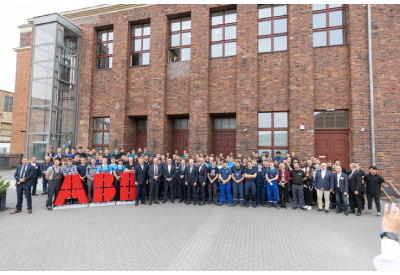 September 30, 2022
•Olaf Scholz visits ABB training center in Berlin to mark the start of the new training year
•The German Chancellor, the Chairman of ABB's Board of Directors, Peter Voser, and Sami Atiya, President of ABB's Robotics & Discrete Automation Business Area and Member of the Executive Committee, inaugurate new extension building with its "Learning Factory Industry 4.0"
•Some 359 apprentices are starting their training program at ABB in Germany in 2022/2023
German Chancellor Olaf Scholz visited ABB's training center in Berlin recently to mark the start of the new training year for apprentices and formally inaugurate the center's extension building. The German Chancellor saw first-hand how ABB's "Learning Factory Industry 4.0" in this new multifunctional building is transforming the education and training opportunities for technology companies – not only for ABB, but also for its partner companies. This year, the ABB training center in Berlin is welcoming an additional 205 apprentices in 17 different apprenticeships, who will learn the skills that will set them up for success in an Industry 4.0 world.
During his visit, the Chancellor saw the benefits of ABB's strategy to regularly modernize its two German training centers in Heidelberg and Berlin, which ensures that every cohort of apprentices is supported by the latest technologies and equipment.
"The ABB training center is a real flagship for our globally respected dual education. The most important future investment of ABB and its partner companies is in the qualification of their skilled workers and thus in the future of their companies," said Chancellor Olaf Scholz.
ABB's "Learning Factory Industry 4.0" is the centerpiece of the new building, with cutting-edge training facilities that prepare trainees for the digital future of manufacturing.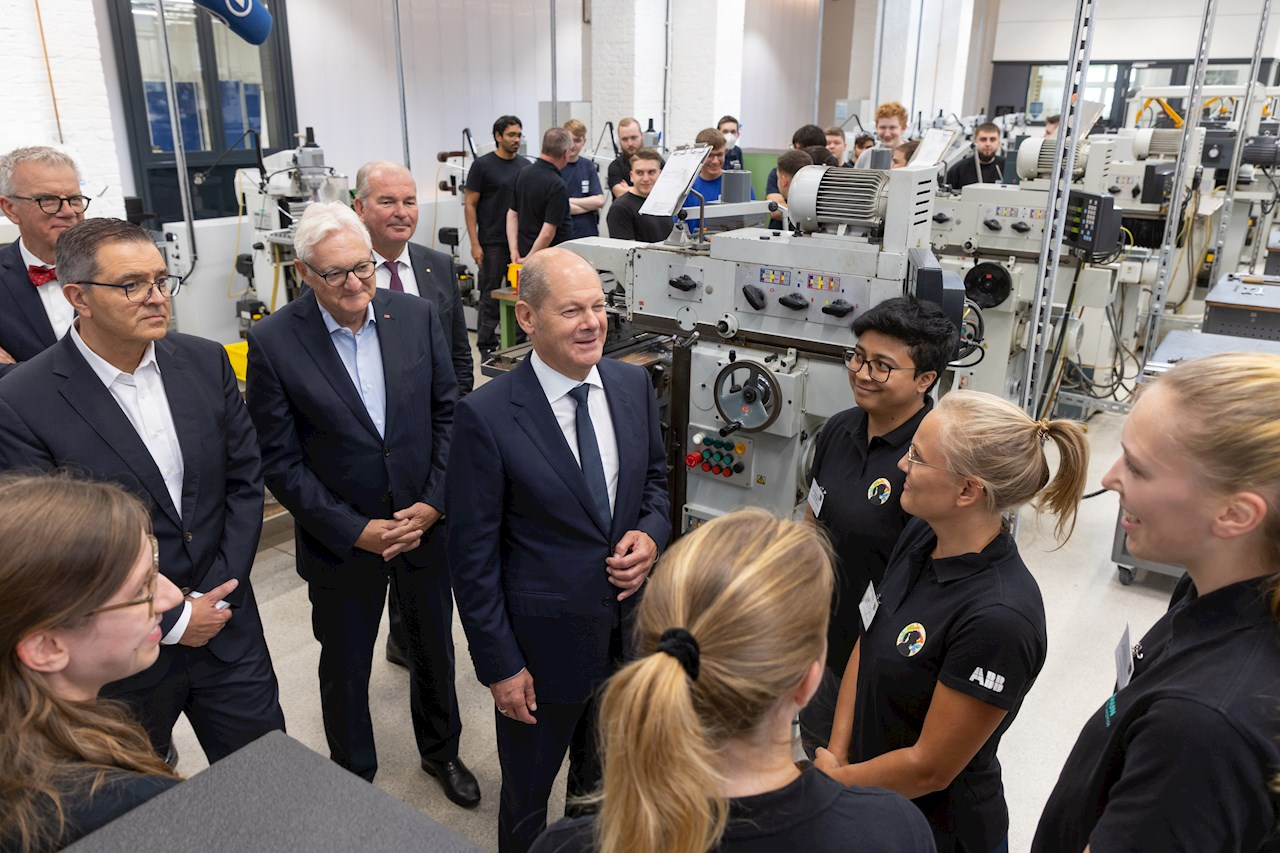 German Chancellor Olaf Scholz speaking with ABB apprenticeship trainers on his tour through the new "Learning Factory Industry 4.0" with ABB's Chairman Peter Voser and Sami Atiya, President of ABB's Robotics & Discrete Automation Business Area and Member of the Executive Committee
"I expect a re-industrialization of Europe, driven by two factors: the need for shorter, more resilient supply chains, and rapidly growing demand for what's known as mass customization, with products that are perfectly tailored for each customer's needs, tastes or lifestyle choices. This can only happen if we train the next generation of employees to become highly qualified specialists. It's this investment in training that allows us at ABB to both innovate and operate profitably in Germany – now and in the future," said Peter Voser, Chairman of the Board at ABB. "We have created a training center here in Berlin that prepares apprentices for the industry needs of tomorrow. This benefits not only us at ABB, but also our partner companies. By working together, we will remain competitive and make an important contribution to broadening the talent pool of Germany's workforce."
Peter Voser and Sami Atiya, President of ABB's Robotics & Discrete Automation Business Area and Member of the Executive Committee, gave Chancellor Olaf Scholz a tour of a learning factory that is equipped to resemble highly automated industrial plants and gives apprentices a holistic understanding of digitally networked production processes. With the guidance of their instructors, the trainees produce a model of an ABB Formula E racing car at the plant.
The Chancellor was also made aware that the new generation at the plant learns to monitor networked systems and to rectify any faults that occur in the production process themselves. Overall, the learning factory makes it possible to integrate key topics such as digitization and Industry 4.0 into training in a practical way.
The investment volume for the multifunctional building was approximately seven million euros. The extension was funded by the state of Berlin, with subsidies of around 6.2 million euros from the "Joint Task for the Improvement of Regional Economic Structures" (GRW).
In the new training year, 359 talents will start an apprenticeship or dual-study program at ABB. 205 of them will start in Berlin while 154 will be based in the second training center, the ABB training center Heidelberg. All other new entrants will complete their training at other ABB locations in Germany. ABB is currently training 680 young people across all training years in Berlin. In Heidelberg there are 421. Nationwide, a total of 1,153 young people are undergoing training at ABB, of which 789 are being trained by ABB for around 250 partner companies.