Discover the Unique Value of the Eplan-Rittal Certified Systems Integrator Program at the EPLAN Virtual Fair, Apr 28-29, 2021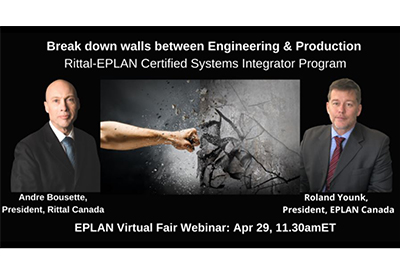 March 31, 2021
In today's world, the key differentiator that can set your organization apart is simply Competence of your people in navigating the tools out there.
The EPLAN-Rittal Certified Systems Integrator Program provides a level of assurance that certified partners are proficient in using their exceptional knowledge and experience of EPLAN Design Engineering software, to specify and integrate Rittal enclosure solutions into their projects for up to 40% time savings.
When you qualify to become an EPLAN Performance, Advanced or Fundamental Partner, you are taking the technical value stream to the next level of sophistication.
Their commitment to competence in design, places emphasis on the user's ability to customize the solution to specific requirements, in record time, and to be able to do it with standard, off the shelf enclosures and accessories. Rittal Canada and EPLAN Canada will explain the advantages of this program, and how the perfect amalgamation of EPLAN and Rittal can help you to realize their exceptional Value Chain, by breaking down the walls between Engineering and Production!
What the EPLAN Virtual Fair will include:
– Fascinating live discussions, webcasts, professional software demos
– Tangible insight for your day-to-day work and clear outlooks for planning your next steps towards standardisation and automation
– Information about the EPLAN Platform innovations and further EPLAN ePULSE cloud developments
You will get the opportunity to talk shop with national and international experts and have many networking opportunities.
Click here to register for the Rittal-EPLAN Certified Integrator Webinar!