SCHUNK: Dirt Tight Quick-Change Chuck for Small to Medium-Sized Lot Sizes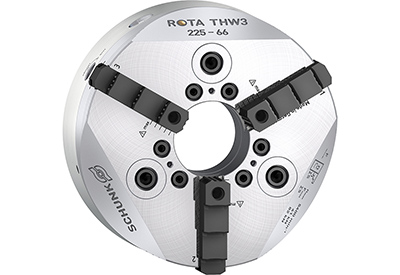 March 18, 2021
If you want to manufacture turned parts more efficiently, low-maintenance and fail-safe precision clamping devices are required. These can be quickly and easily converted, and, if necessary, can also be used for automatic loading. The SCHUNK ROTA THW3 chuck with quick-change jaws and patented sealing of the chuck mechanism has been designed for with this in mind. Users benefit from a permanently high process reliability, constant clamping forces and long maintenance intervals.
The all-rounder for different applications
Equipped with a quick-change jaw system, the ROTA THW3 can be quickly converted for a new range of parts on CNC lathes, pick-up lathes and turn/mill centers, and has an excellent jaw repeat accuracy of up to < 0.02 mm. Previously turned out sets of jaws can be repeatedly used, even for applications where the tolerances are challenging. The jaw stroke of the straight-serrated base jaws amounts to 6.7 mm to 10.5 mm – depending on the jaw size. A ring piston transmits the force transmission directly and therefore ensures a high degree of efficiency: The clamping force of the smallest size, the ROTA THW3 200 is 64 kN, and as of size 400, the chuck achieves a clamping force of 240 kN. The chuck's base body is hardened and extremely rigid, and even in case of heavy-duty machining precise and reliable machining results can be achieved. Due to the optimized outside contour, the chuck is perfectly designed for milling tasks. Versatile use of the chuck is ensured: it has a large through-hole of 52 mm (size 200) up to 165 mm (size 630), center sleeves that can be exchanged from the front, and the option of I.D. and O.D. clamping. Furthermore, the power lathe chuck can also be complemented with an adjustable workpiece stop.
Quickfinder for chuck jaws
Searching for the matching chuck jaws for the SCHUNK ROTA THW3 chuck is child's play with the jaw quickfinder: It takes just four clicks to get to chuck manufacturer, chuck type, chuck size and product details. The user receives a list of all matching chuck jaws from over 1,200 jaw types of the world's largest standard chuck jaw program from SCHUNK. The matching chuck jaws can be directly selected within the quickfinder.