Rollon Enhances Telerace Rails for Simpler, Higher-Performing Automated Systems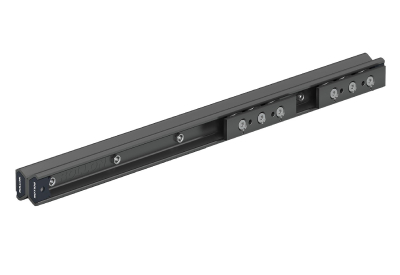 February 18, 2022
Rollon has upgraded its Telerace family of linear rails to help designers simplify projects and enhance the efficiency of automated systems. Two Telerace families of cold-drawn steel rails now feature induction hardened and ground raceways along with double-row ball bearings for greater load handling capability, longer life and reduced maintenance requirements.
The newly enhanced rail versions carry a "Plus" designation, provide full extension and offer distinct features:
•TLQ version. Adjustable sliders allow users to set the stroke length/load capacity ratio by up to ±20 percent
•TLR version. This unit manages misalignment errors of up to ±2.7 degrees and compensates for dimensional difference between the structure and a drawer with tolerance of up to 0.5 millimeter.
Six Telerace versions are available in total, and customers can choose versions with one or two rows of ball bearings as well as different sizes and materials. These systems are well-suited for vertical use and less sensitive to high dynamics and shifting working cycles that are prevalent in automated machinery.
Additional advantages include:
•Reliable vertical and variable strokes. Since Telerace does not have a ball cage, automated vertical and variable strokes are possible.
•Low opening and closing force. Sturdy profiles minimize deflection, and ground raceways ensure smooth, silent movement with low friction.
•Reliability in dirty environments. Large rolling elements make Telerace more tolerant to dirt and debris. And end-stoppers include wipers with slow-release felts for clean and constantly lubricated raceways.
•Long lifetime. Induction hardened raceways and Rollon-Nox hardening treatments ensure long life.
•Corrosion resistance. Surface treatments make Telerace reliable in harsh environments.
For more information about Rollon's Telerace product family, click here