Omron: Sysmac Studio Software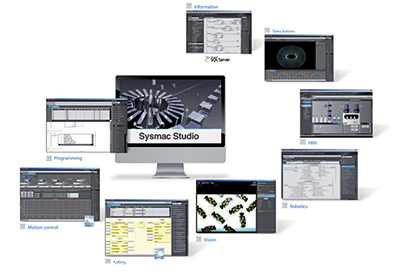 September 2, 2021
Created to give machine developers complete control from a single environment, Sysmac Studio integrates configuration, programming, simulation, and monitoring in a simple interface. This advanced software tool is the sole software required for the NJ-Series machine automation controller, which brings together logic, motion, and vision onto a single platform.
Products handled by this software suite include:
– NX-series controllers
– NJ-series controllers
– NA-series HMI
– NX-series I/O and safety
– G5-series servo
– MX2-series and RX-series frequency inverter
– FH and FQM vision system and sensor
– GX network components
– E3 N-Smart sensors
– ZW-series measurement sensors
Other utilities for peripherals and expanded information network configuration are also included in the software suite. One software to control and configure the entire machine with a single connection gives you the power and efficiency to develop and create like never before.