Norgren Excelon Plus Air Prep Components from AutomationDirect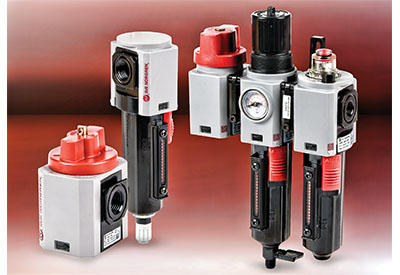 November 4, 2021
AutomationDirect has added Norgren Excelon Plus air prep components to its existing lineup of pneumatic air prep products. Norgren, a well-known name for pneumatic components, manufactures products that provide exceptional performance, and their Excelon Plus air prep components are compact, lightweight, and suitable for most industrial applications.
Norgren Excelon Plus 82 series air prep products with ¼" and 3/8" female NPT port sizes and the 84 series with 3/8", ½" and ¾" female NPT port sizes include air filters (particulate, coalescing oil removal, and vapor removal), air regulators, air filter regulators, air micro-fog lubricators, manual shut-off relief valves, soft start/dump valves, solenoid-activated control valves, and pre-assembled combination filter-regulator-lubricator units that are ready to use right out of the box.
A range of mounting accessories, port adapters, and replacement filter elements for the Norgren air prep components is also available. Norgren products from AutomationDirect have a 2-year warranty, start at $30.50, and are all stock items so they can be shipped quickly.
Learn more by visiting: https://www.automationdirect.com/combination-air-prep.