New Festo Modules Optimize Compressed Air Consumption, Detect Leaks Sooner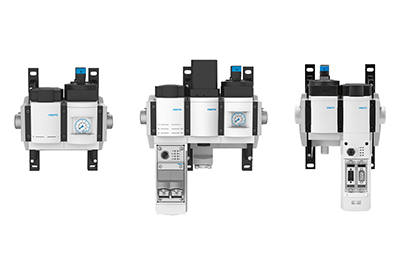 November 26, 2020
Festo is expanding its industry-leading technology for energy conservation and early leak detection in pneumatic production with two more intelligent energy efficiency modules – the MSE6-C2M and MSE6-D2M. They join the MSE6-E2M to form a comprehensive lineup of condition monitoring devices that optimize compressed air usage during normal operations and halt or reduce consumption during scheduled stoppages as a further economy. They will pay for themselves in fairly short order.
These MSE6 series modules can be fully integrated into the machine's control system via fieldbus nodes to cyclically exchange important energy consumption and availability data regarding production. That data can inform more targeted preventive maintenance practices, or for even bigger cost savings, a predictive maintenance program. In the case of the -E2M, this data can be uploaded to the cloud via the Festo IoT gateway CPX-IOT and recorded and analyzed as long-term measured values to recognize consumption trends that can identify inefficiencies and deteriorating performance for possible remedial action.
The new -C2M is the most fully featured in the MSE6 series. It fully and automatically regulates the compressed air consumption of a pneumatic system. The -C2M combines a pressure regulator, on/off valve, flow and pressure sensors and fieldbus communications (PROFINET, with more protocols to come) in one unit. During production, the integrated proportional pressure regulator ensures optimum production by regulating the pressure according the user's specifications. During non-production intervals, it shuts off the compressed air supply once production has stopped for a certain amount of time while maintaining sufficient pressure in the idling system for an immediate re-start.
While the system is in standby mode, the -C2M, like the -E2M and -D2M, will detect leaks by evaluating the rate of pressure drop.
Throughout industry, estimates of compressor capacity loss due to leaks runs from 10 to 30%, even in businesses with high maintenance standards. It usually starts with tiny trickles around joints or in hoses, and can grow into major problems that result in unscheduled shutdowns. When excessive air loss goes unrecognized, the compressor and associated components have to work harder to maintain required production pressure levels, potentially shortening their reliability or service life.
Conventional approaches for detecting air loss are reactive, like relying on pressure sensors on air preparation units to send a signal to the PLC or DCS that the pressure has dropped too low. At that point, the system often shuts down until engineering or maintenance diagnoses and fixes the problem. Festo's MSE6 modules continuously monitor air flow and volumetric consumption. They can detect anomalies much sooner, so repairs can be done when issues are small, and during scheduled downtime.
The -C2M also can be incorporated into an air preparation environment, to create a service unit that also can perform functions such as soft start, filtering and exhaust/quick exhaust. The smaller, economical -D2M, is an efficient extension module of the -C2M to provide coverage of a second supply stream. It must be connected to a -C2M or to a CPX terminal.
The -C2M already has won an award – the Gold Medal in the pneumatics category at the 2020 LEAP (Leadership in Engineering Achievement Program) awards. The judges verdict: "Great energy saving product! Leveraging historical data, or data mining gives the customer situational awareness."
The -E2M, introduced in 2015, is a standalone module that has won multiple awards and citations for both concept and technology; it's the mid-priced choice in the MSE6 series.
All three MSE6 modules can be installed in existing or new systems.
For more information, visit www.festo.com.