Maintenance Safeguarding System "Key-In-Pocket": Register Now For the Free Webinar
February 16, 2023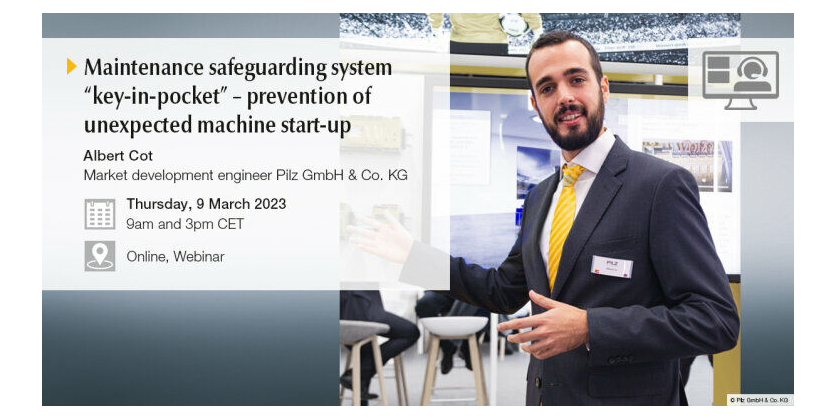 Maintenance safeguarding system "Key-In-Pocket" prevents unexpected machine start-up
Protect your personnel from hazards in maintenance situations! Use the "key-in-pocket" solution from Pilz to prevent the unexpected start-up of machinery as long as people remain in the danger zone. Get to know all the functions and advantages of the safeguarding system "key-in-pocket" during the live demonstration.  
Agenda:
What is the maintenance safeguarding system "key-in-pocket"
Where can the solution be used
Procedure and function
Advantages and summary
NOTE: The time listed is in CET time. This is 6 hours ahead of EST, so the webinar will be at 9:00am EST.
Related Product
The new maintenance safeguarding "key-in-pocket" system from PILZ protects operators from an unauthorized machine restart, allowing maintenance work to be carried out safely. Digital maintenance safeguarding is based on the access permission system PITreader and guarantees safety and industrial security: only authorized persons can access the plant or machine during the maintenance process – tampering and misuse are excluded.
Extensive plants often have a large number of danger zones, which are protected using safety fences. This places particular demands on safety: for example, it's important that only authorized persons have access for maintenance work. At the same time, it's essential to ensure that nobody is left in the danger zone when the plant restarts.