Honeywell Introduces Optical Caliper Sensor to Help Optimize Lithium Ion Battery Manufacturing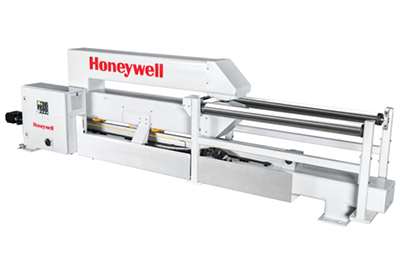 January 20, 2021
Honeywell recently announced the introduction of an Optical Caliper Measurement Sensor designed to optimize Lithium Ion Battery (LIB) production. The new sensor provides an effective solution for measuring the true thickness of electrode material during coating as well as at the pressing station during LIB manufacturing. Accurate thickness measurement is a key criterion for optimal battery performance.
For manufacturers of LIBs, the coating and pressing sections of the battery manufacturing line have demanding requirements. It is particularly important to produce electrode sheets with a uniform coating on the top and bottom sides of the material. An accurate thickness measurement of the coating can be used to control the coating in cross direction (CD) and machine direction (MD) and later the calendaring process.
Honeywell has over 20 years of experience producing advanced sensors and controls for the global LIB industry. Its state-of-the-art optical displacement sensor technology measures very high (0.5-mm) resolution and does not require regulatory approvals or radiation shielding.
The Honeywell LIB Optical Caliper Sensor uses novel displacement measurement technology to measure total thickness of coatings. This technique provides one-micron measurement accuracy and enables operators to detect and classify defective areas in the electrode material prior to downstream processing. Honeywell's solution also offers seamless integration of the measurement platform with advanced controls and a web-based Human-Machine Interface (HMI).
"Honeywell's LIB Optical Caliper Sensor is proven to measure the total thickness of the electrode material from edge to edge and provides precise data that can be used as a control feedback, thus helping to optimize the thickness of the sheet material," Fredrik Westerberg – Director, Strategic Planning, Honeywell Process Solutions, said. "The sensor's high-precision measurements are key to producing uniform electrode material, reducing scrap and increasing battery production yield. This capability differs from current practices where electrode defects only become observable further down-stream in the process – often resulting in expensive wastage, rejects and reduced production yield."
With the addition of the LIB Optical Caliper Sensor to its family of gauging products, Honeywell can provide a complete, integrated solution for end-users and Original Equipment Manufacturers (OEMs) in the LIB manufacturing industry. Based on decades of experience in LIB production.
Honeywell's integrated portfolio of solutions leverages Industrial Internet of Things (IIoT) – with Honeywell's enterprise capabilities and can be paired with its ControlEdge Programmable Logic Controllers (PLC), Experion® Batch, QCS 4.0 remote monitoring solution, and inspection systems to help drive operational efficiency. The integrated solution ensures sustained benefits from initial startup with Honeywell's global project execution resources through to long term local service and support.
Honeywell can assemble tailored automation solutions from its extensive product portfolio and then implement them in a way that best suits the end user's operational needs and business objectives. The company offers a holistic, end-to-end measurement and control capability that eliminates islands of automation and helps improve overall manufacturing performance.