Highest Level Identification with the New Vision Sensor Series VOS Ident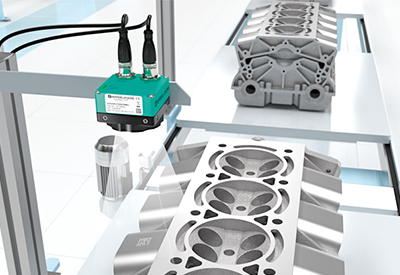 September 14, 2021
Identification tasks for code readers in factory automation are enormously diverse. Whether standstill or high-speed, printed or directly marked codes, large distance, or minimum code size—the VOS Ident offers the perfect solution for a wide variety of application requirements.
As an expansion of the VOS universal vision sensor series, the VOS Ident series devices are specialized in reliably reading all common 1-D and 2-D codes, including lasered/needled codes (DPM).
Due to powerful functions and their extensive adaptability, the VOS Ident sensors master even highly complex and individual applications. They are suitable for both small and large distances from 70 mm up to 2 m. The VOS Ident devices not only impress with their large scanning ranges, but they also reliably read extremely small codes with a module size of up to 0.1 millimeters.
The intuitive user interface of the VOS Ident sensors ensures optimal workflows and easy handling of the devices. Depending on the application requirements, multiple sensors can be combined. Additional reading windows can be created via multiwindow, with up to 64 codes being recognized in each window using the multicode function. This function is very useful in the field of electronics manufacturing, for example. The printed circuit boards used there have codes of different types in different positions which are reliably detected due to multicode reading. The VOS Ident series also offers the option of code quality output based on ISO 15415, ISO 16022, and ISO/IEC TR 29158 (AIM DPM).
Additionally, all devices allow convenient remote access and storage of up to 32 jobs. Image storage is possible both on the sensor and on the FTP server. The sensors can be easily integrated into programmable logic controllers and PCs via common interfaces such as Ethernet TCP/IP, PROFINET IO, EtherNet/IP™, RS-232 and I/Os. Moreover, the output string can be customized and integrated into the system using the Vision Configurator operating software. The inputs and outputs of the devices can also be flexibly defined.
VOS Ident Portfolio at a Glance
Just as diverse as their features are the designs and application areas of the VOS Ident sensors. The VOS2000-I offers a resolution of 1.2 megapixels and features integrated white illumination as well as several lenses for the detection of large and small fields of view. The VOS5000-I, on the other hand, has a resolution of 5.2 megapixels and therefore enables code reading at an especially large scanning range. For maximum flexibility, both code readers are also available as C-mount variants. Pepperl+Fuchs offers a complete portfolio of external illumination and lenses for this purpose. The illumination is simply attached to the code reader and controlled through it—no additional power supply is required. The sensors in the VOS Ident series can master any identification task—from track-and-trace applications in the automotive industry to demanding applications in warehousing and materials handling technology, such as multipage reading on cartons and trays at a standstill or high speeds.
Highlights of the VOS Ident Sensor Series
Reliable reading of 1-D and 2-D codes at large distances from 70 mm up to 2 m
Multifunctional: parameterization of up to 32 jobs, match code, multicode, output string formatting, and multiwindow as well as a multisensor mode
Flexibly adaptable hardware and software
Interfaces: Ethernet TCP/IP, PROFINET IO, EtherNet/IP™, RS-232, and I/Os.
Code quality output based on ISO 15415, ISO 16022, ISO/IEC TR 29158 (AIM DPM)
Extensive accessory portfolio of external lighting sources and lenses