Emerson's Enhanced NextGen Smart Firewall Perimeter Defense Solution Simplifies Network Security for Distributed Control Systems
June 5, 2023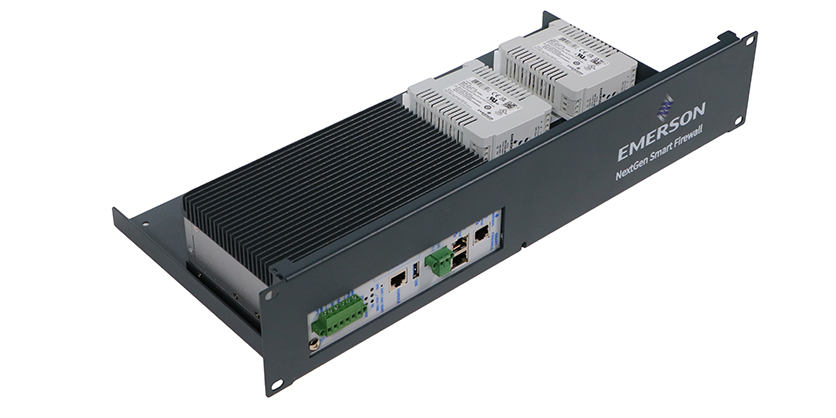 Emerson is improving perimeter security for the DeltaV distributed control system (DCS) with its new NextGen Smart Firewall, a purpose-built control system firewall designed to provide easy-to-install and easy-to-maintain perimeter security for all industries. More ruggedized construction, increased bandwidth, and role-based access provide users with increased performance and more granular access control.
Manufacturers need to secure their networks without complexity that would otherwise add administrative overhead to already busy operations teams. Emerson's NextGen Smart Firewall features a user-friendly HTML5 web-based user interface, easy to understand setup menus, and pre-defined DeltaV application rules. The ease of use helps DeltaV administrators and control engineers with no security or information technology (IT) expertise create secure connections for DeltaV applications.
"A critical element of Emerson's vision of boundless automation architecture is secure connectivity between systems in the plant and across the enterprise," said Claudio Fayad, vice president of technology for Emerson's process systems and solutions business. "Emerson's NextGen Smart Firewall delivers intuitive setup and interfaces to provide plants with access to a much wider array of technologies—from control, to reliability, to sustainability and more—without the need to maintain a dedicated IT presence."

Claudio Fayad, vice president of technology for Emerson's process systems and solutions business
Gigabit connections support improved performance for applications that require higher bandwidth. Ruggedized construction is well suited for harsh manufacturing environments.
Emerson's NextGen Smart Firewall's advanced features include:
Virtual private networks – increasing flexibility and security for geographically dispersed networks
Network address translation – protecting network IP schemes and conserving addresses
More granular user roles – administrators have full control, engineers may add or modify application rules, and auditors have read-only access to logs.
More Information
Emerson NextGen Smart Firewall for DeltaV Systems
Related Story
Emerson has been named 2023 Energy Star Partner of the Year for energy management as the company drives measurable progress toward its net zero emissions targets.
Emerson has received the 2023 Energy Star Partner of the Year Award from the U.S. Environmental Protection Agency (EPA) and the U.S. Department of Energy. The Energy Management award recognizes companies that have superior energy management programs and demonstrated their commitment to environmental protection and continuous improvement in their buildings and facilities.