Emerson Introduces Branson GMX-HP, New Ultrasonic Metal Welder for Bonding Larger Batteries, Conductors and Wire Terminations
Branson GMX-HP delivers higher power with greater downforce to meet changing requirements of global electric vehicle manufacturers
January 24, 2023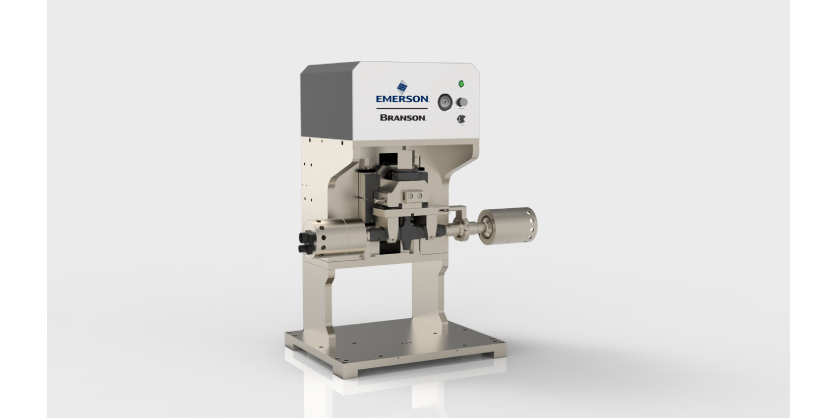 Emerson's new Branson™ GMX-HP ultrasonic metal welder combines greater power and downforce, essential for larger welds required by electric vehicles, batteries and energy storage systems, with a modular equipment design and features that simplify installation and automation for machine builders and manufacturers.
The new GMX-HP features increased weld power, furnished by a high-capacity 8-kilowatt, 20-kilohertz power supply. Welding power is transmitted through a direct-press actuator, equipped with dual linear bearing guides, precision distance sensors and a dynamic pressure trigger that deliver greater part-holding downforce with the high stability needed for repeatable weld quality.
These characteristics make the GMX-HP welder an excellent choice for ultrasonic welding of larger-diameter conductors, terminations and busbars essential for increased power-carrying capacity, or for bonding the thicker stacks of anode/cathode films used in high power-density batteries or energy storage systems.
The GMX-HP welder is also designed for optimal flexibility and productivity, from automation design through long-run manufacturing. Manufacturing engineers, automation experts and machine builders will appreciate the flexibility of the welder's modular design, which accommodates base mounting, rear-gantry or top-gantry mountings to simplify configuration, installation and operation of multimachine automated welding systems.
Production managers and operators will note a new quick-release modular actuator that enables rapid, but precise, change-outs of weld "horns" or entire weld "stacks" to meet varied production requirements.
"Manufacturers are seeking better ways to build more powerful batteries and energy storage systems for everything from electric vehicles to renewable energy systems. The GMX-HP welder lets users scale up designs without sacrificing reliability or consistency."

Alex Yeung, global product manager, metal welding for Emerson
Built into the weld power supply, the welder's programmable digital controls can manage the welding process in multiple modes: time, energy, peak power and distance. These versatile weld modes ensure the added precision required to maintain tight weld process control despite occasional variations in part surface quality or cleanliness. Production and quality assurance managers can track weld output, quality and yields with the help of the full array of weld-data collection and storage capabilities available in the GMX-HP weld power supply.
Related Story
Emerson will showcase ASCOTM miniature valve technologies for fluid control, as well as BransonTM welding equipment and automated solutions for plastics joining at the Compamed 2022 trade fair Nov. 14-17 in Düsseldorf, Germany.
Branson GSX-E1 Ultrasonic Welding Platform
The Elite Precision+ version of the Branson GSX-E1 ultrasonic welder is an advanced and intuitive flexible joining solution for plastic components. It uses Branson's patent-pending "dynamic mode" along with servo actuation to deliver greater flexibility and precision than are possible with single- parameter weld-mode controls typically found on conventional ultrasonic welders.
Controls automatically monitor, recalculate and adjust multiple weld parameters in real time (e.g., force, weld energy, velocity, distance) to achieve optimal, user-specified results such as consistent insert depth/position and pull strength. Among other things, real-time control, monitoring and communication capabilities allow medical manufacturers to automate bad-part processing and data logging that are necessary to maintain superior quality.
It also supports the 100% traceability required under standards such as the U.S. Food and Drug Administration's (FDA) 21 CFR Part 11, which requires manufacturers to deliver electronic records, data management and audit trails. Mechanically, the GSX-E1 welders offer other benefits to medical device manufacturers, including ISO class 5.5 cleanroom certification, and is available with an optional stainless-steel actuator kit.