AchieVe IEC and Compact Limit Switches from AutomationDirect
August 11, 2023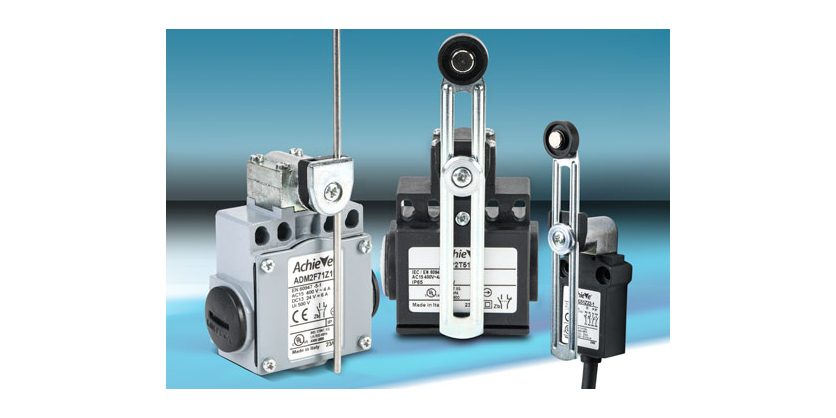 AchieVe IEC and Compact Limit Switches from AutomationDirect
AutomationDirect is pleased to announce the launch of several IEC and compact limit switches under the new house brand, AchieVe. These new AchieVe limit switches are available in a selection of sizes and styles, including:
ADM/ADP series 50mm heavy-duty IEC limit switches
AHP series 30mm plastic IEC limit switches with remote reset
AEM/AEP series compact limit switches for confined spaces
These limit switches offer a variety of actuator styles, including plunger, lever, and a new pull-action style that is activated when a cable (sold separately) attached to the switch is pulled. This pull-action actuator, offered in the ADM series, is useful for simple start/stop control or signaling applications.
The AHP series 30mm IEC limit switches, with remote reset, feature a latching function that requires an external control signal to restore the switch contacts to their initial position and allow the switch to be triggered again.
The AEM/AEP series switches feature a super compact profile with a 25mm [0.98 in.] hole spacing, ideal for space-limited applications.
AchieVe limit switches are UL listed, CE marked, and RoHS compliant. They offer a one-year warranty and start at $17.00.
More Information
Related Story
Every year, our local newspaper, Forsyth County News, conducts their Readers' Choice "Best of Forsyth" contest to decide the favorite businesses, groups and professionals in Forsyth County amongst the community. The 2023 contest included 310 categories celebrated with 2,000 business nominations, 14,500 nominations and 336,000 votes from the community to select the winners.