Omron's K6PM Thermal Condition Monitor: Predictive Maintenance Reduces Downtime
Reduce unplanned downtime, increase response time, and focus on predictive maintenance with Omron's new K6PM Thermal Condition Monitor
October 17, 2023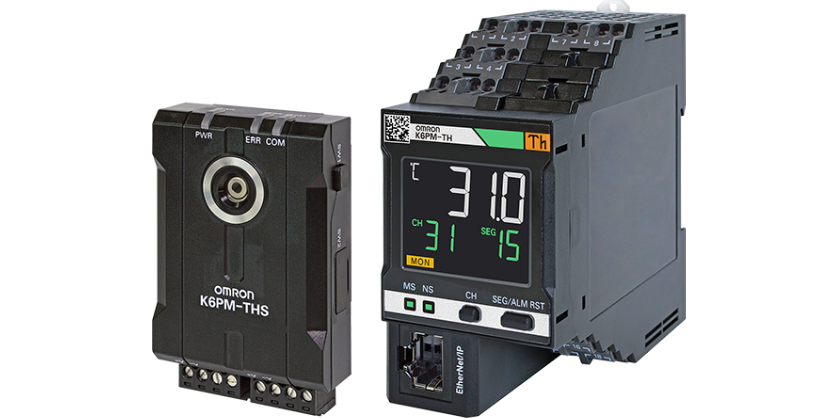 Effective and exhaustive temperature monitoring has traditionally been performed by skilled workers who are adept with using special thermal monitoring equipment to identify potential concerns. These inspections, however, are becoming increasingly complicated because of the ever-increasing number of devices in a panel that are needed to adhere to compliance standards. Simultaneously, the quality and quantity of maintenance workers is receding, making it challenging to provide real-time analysis of thermal conditions in a panel and develop an accurate snapshot of the system.
Omron's innovative thermal condition monitor offers continuous thermal monitoring of critical components. The K6PM is compact and can perform thermal monitoring on high-voltage control panels, transformers, hydraulic equipment, data centres, bearings, gearboxes, and more. It utilizes a controller with a built-in display and remotely mounted thermal imaging cameras, automating what previously was a manual thermal inspection process. With Omron's K6PM, predictive maintenance is possible because you can monitor temperatures in realtime, safely and easily
In this article, Dan Andersen, Marketing Manager, and Juan Carlos Garcia, Product Managerat Omron Automation, discuss the K6PM Thermal Condition Monitor and explain how it can reduce unplanned downtime, increase response time, and help you focus on automatingpredictive maintenance.
What are "traditional" temperature monitoring solutions?
Traditionally, maintenance workers would go from machine to machine, and perform thermal inspections manually using a thermal imaging system. This would allow them to determine the current thermal state of the equipment of interest at that moment in time. They would then need to be able to interpret the information that the thermal sensor had communicated to be able to determine if any of the measured data represented any risk.
Usually, the concern about the accuracy of that information was dependent upon when the measurements were taken. For example, if the equipment was nearing a failure point, the thermal inspection would have to occur in the window of detectable failure to prevent unplanned downtime.
Ideally, to detect thermal risk before it occurs, the thermal inspection should be an automated solution.
What is driving the implementation of new technologies, and why is continuous monitoring becoming more popular and effective?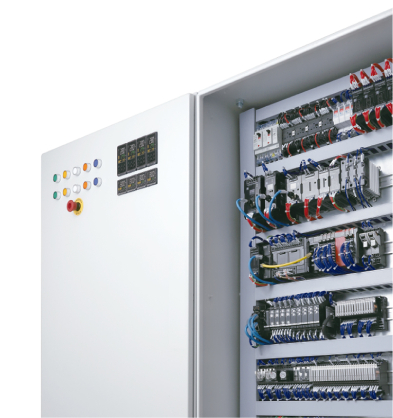 Any strategy that involves taking manual spot-check thermal readings encounters the risk of failure occurring during the time intervals between these spot-checks. Typically, inspections can be anywhere from quarterly to yearly. This window is large enough that failure conditions can develop and materialize into actual failures during the time between inspections.
As a result, automating the continuous monitoring of thermal areas of interest allows for fast detection of abnormal conditions as they occur, reducing or even eliminating the risk of their occurrence between manual inspection events.
What is the "ideal" thermal condition of a control panel, and why? And what are some of the critical components therein?
Ideally, the temperature inside a control panel should be around 35-40°C (95 – 104 °F) to allow existing components to operate at a rated and safe temperature. Critical components inside of a panel include transformers, high voltage circuit breakers, programmable controllers, frequency drivers, and inverters. These devices can cause heat generation inside the control panel, which can decrease their lifetime. Thermal monitoring is necessary to avoid any risk of fire or equipment malfunctions.
Is the K6PM only applicable in a control panel, or are there other applications for them?
While the K6PM's original design intent was focused on control panels, any application that requires automated thermal or temperature monitoring would be a potential use-case for the K6PM monitoring system. This includes hydraulic equipment, 3-phase motors/gearboxes, or any other application where monitoring heat is a significant safety concern, especially in areas that are difficult to reach, or where limited maintenance resources are available.
What are the benefits and features of the K6PM Thermal Condition Monitor?
The K6PM thermal condition monitor allows up to 31 cameras to be connected together in areas of interest, allowing for the automated thermal monitoring of critical components that could potentially cause a fire. The K6PM views 16 grids of thermal profile and can have up to three temperature alarms programed into each grid, such that when a temperature threshold is violated, the K6PM will alarm the customer of this event through the local alarm bar, transistor output, or Ethernet/IP communication.
In addition, the K6PM has a predictive algorithm such that if a temperature rise is detected, it can predict that temperature rise's future steady state temperature. If the user has set an alarm for lower than the predicted temperature, the alarm will trigger up to 58 minutes in advance, potentially avoiding costly damage, fire or injury.
How does the K6PM Thermal Condition Monitor provide continuous monitoring?
The K6PM consists of two parts: the thermal infrared sensor and its controller. Up to 31 cameras can be mounted and daisy-chained to each other in any area of interest, and these cameras are able to detect the infrared wavelengths that are emitted by any piece of equipment producing them every second. This information is then sent back through the camera network to the controller where the data is interpreted and compared with any user set alarms.
If any temperatures monitored by the camera(s) have exceeded any of these alarm thresholds, or if the prediction algorithm recognizes a temperature rise that will be above the threshold, the control unit will alert the user through its 3 different alarms. This live data can also be transferred to an outside control system through the EtherNet/IP port so that a user can remotely monitor the live feed from any of the cameras attached to the controller, while also logging the data into a PLC as part of a larger system.
What else should Omron's customers know about thermal condition monitoring and predictive maintenance?
The overall objective of predictive maintenance is to reduce or eliminate unplanned downtime that can result from critical equipment failure by automating the equipment monitoring process using sensors that capture condition data. That data is interpreted and compared with previous condition measurements to form a trend, and failure can be predicted through monitoring that trend. This data can also be sent to other IIoT platforms such as PLCs, SCADA systems, or PowerBI systems, and has the capability to integrate into existing analytics.
As a result of automation of equipment monitoring, manufacturers are reducing their reliance on limited skilled labor resources and reducing or eliminating unplanned downtime, which contributes to overall cost savings in the manufacturing process. With unplanned downtime costing hundreds of thousands of dollars in the EV manufacturing environment, for example, thermal condition monitoring and predictive maintenance can offer EV manufactures significant cost savings through increasing overall equipment efficiency.
More Information
Interested in learning more about Omron's K6PM Thermal Condition Monitor, or Predictive Maintenance? Click the links to find out more, or visit the Omron website today.
Related Story
Traceability is necessary to verify that proper materials, quality, testing, and assembly have been completed. It helps maintain brand loyalty via customer transparency, and it provides information about product quality and supply chain. Traceability can provide a staggering number of data points, and it can be challenging to know how to best make use of this information.
Today, more industries are starting to adapt track and trace processes, not necessarily to protect themselves in the event of a recall or issue, but because they recognize the advantages the data from traceability can provide. They see the potential for using this data in a proactive way.