Not Just a Bearing Company. NSK: The Subject Matter Experts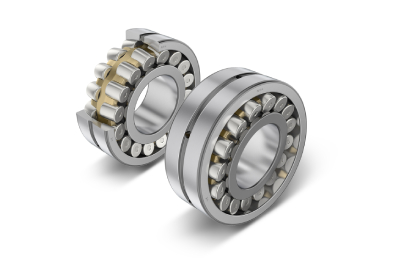 June 24, 2022
By Krystie Johnston
NSK is a global manufacturer of ball and roller bearings, precision linear motion and integrated automation solutions, and automotive components and steering systems. With both domestic and overseas manufacturing facilities, the company manufactures everything from multi-ton bearings for mines, quarries, wind turbines and steel mills, to super-precision micro bearings smaller than a grain of rice for medical and dental tools. Their linear components are found in everything from high-load industrial applications to surgical robotics. Their automotive components are installed in vehicles of every well-known automaker.
VE-series spherical roller bearings for heavy-duty applications in mines and quarries
The company also offers a full range of support services including bearing reconditioning, ball screw repair, systems integration, application engineering, and predictive and preventative maintenance and monitoring services.
Mechatronics Canada recently had the opportunity to sit down with Jon Lorello, Linear and Mechatronics Specialist at NSK Corporation, to ask him about the basics of bearings. We gained better understanding of bearings – and the awareness that NSK is more than just a bearing manufacturer. They are subject matter experts in motion and control for virtually any industry.
1. What is a bearing?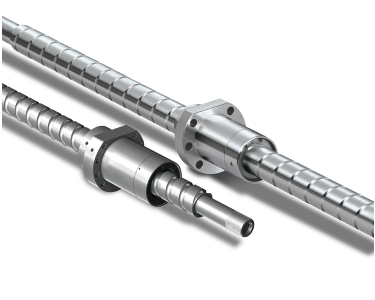 A bearing is a component or device that does two things: First, it restricts travel to one desired motion. Second, it minimizes friction as much as possible. It makes movement more efficient, so less energy and heat are generated. There are typically two types of bearings: bearings that allow rotation (rotational or radial bearings), and bearings that allow linear motion (linear bearings).
Precision-ground ball screws for highly-accurate linear positioning
2. What are the parts of a bearing?
In basic terms, the main components of a bearing are (1) a part that is fixed and stationary, (2) a part that moves with a machine or machine component, and (3) a friction modifier. The modifier reduces friction in the system; it can be grease or oil, a ball bearing, a roller bearing, a bearing of a different shape that rolls or glides, or even air between two surfaces – air can be used as a friction modifier.
3. How many types of bearing are there?
There are many distinct types of bearings, and they are used for thousands of different purposes. They come in varied geometries, sizes, tolerances, materials, and seal and lubricant options. At NSK, we engineer the optimal bearing solution to maximize machine uptime and efficiency in each specific application.
4. Counterfeit bearings have been in the news lately. What's the situation with these?
Counterfeit bearings are cheaply manufactured by unregulated companies, but designed to look like bearings from a major manufacturer. Due to their often lower purchase cost, they may appear an attractive alternative to genuine bearings. But their lower quality materials and engineering frequently result in premature failure, can lead to damage to the machine in which they're used, and can lead to catastrophic machine failure and even operator injury.
When someone looks at a genuine part next to a counterfeit part, they may appear to be the same, and they may even feel the same in the way that they operate. If you have one machine with genuine parts and one machine with counterfeit parts, they may initially appear to perform the same; however, there are usually two main differences between genuine bearings and counterfeit bearings.
Wheel hub bearing unit for automotive applications
The first is that the manufacturing methods and standards used to make the product, the way that it is produced can be quite different when comparing genuine and counterfeit items. The second would be quality assurance, the quality standards, and the quality checking that happens to the part. A genuine part will be held at a much higher standard for performance, surface smoothness, rigidity, how much compliance the part has when it is assembled, compared to a counterfeit part.
NSK is known for exceptional quality and bearing toughness. We, as well as other major genuine bearing manufacturers, have a vanishingly low number of bearing failures, manufacturing defects or quality issues. Unlike counterfeit bearings, modern genuine bearings frequently exceed expected service life, and by significant margins.
I will stress one point if a customer is in doubt about their bearing authenticity: talk to the manufacturer directly. All major bearing manufacturers have open communication channels, and they will advise you on the best way to purchase or obtain their genuine products.
5. Why does the bearing application matter? How does the application affect bearing selection?
Depending on the application, I may need a bearing to move a lot of load – a big, heavy load back and forth, or in a rotation. I may need a bearing that moves my product at a remarkably high speed, because I need a lot of throughput, a lot of motion in a short amount of time. I may need a product that is small and minimally designed because my product needs to be compact. I may need a product that is suitable for high-temperature applications, or a radiation environment, or a vacuum environment, or a food environment. All these variables are critical in bearing selection for maximum performance and service life.
Heavy-duty linear guides for high-load industrial applications
6. What can happen if the wrong bearing is used?
In terms of things going wrong, you think of a failure. Usually, bearing products do not fail catastrophically or fall apart. They simply reach their end-of-life due to wear. It can develop play, or slop, or your machine could start moving around in a way that you do not desire. That is generally an indicator that a bearing is failing. It could start vibrating, making noise, it could rattle, things like that.
When a properly selected bearing is used, it will have a full useful lifecycle. When a customer or engineer specifies their performance expectations, say, that a machine needs to run for X-hours per day, or X-years before replacement, conversing with the bearing manufacturer will help them find the product that will meet those expectations. It is not necessarily about what will go wrong, but what will go right. The end-of-life expectations should all be met when the proper bearing is selected.
7. Do customers come to you knowing the exact product that they want? Or do you help them determine the best product for their needs?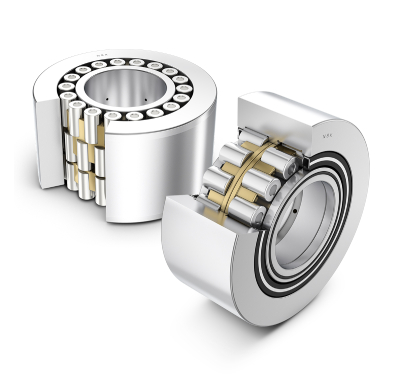 It is a mix of both. Bearing technology is a field that requires a lot of experience. It comes down to the customers' experience of using bearing products. When a customer has a lot of experience, and the education and training in the field, they have a fairly good idea of what they need. They know what is the best fit or close to best fit for a final product. A customer without this experience will need to be educated; they need guidance from the manufacturer to help understand bearing performance factors, installation and fitting, and lubrication and maintenance best practices.
High-precision cylindrical roller bearings for cluster mills in metal making
One of the great things about working with bearing users is the variety of markets NSK serves. Regardless of the industry, if you have motion in your assembly, you need bearings. Steel mills, mines and quarries, automobiles, agriculture, medical, food and beverage, oil and gas, energy, packaging, assembly, you name it – all these markets use our products, and it is exciting to work in all these different disciplines.
8. What resources does NSK have to help make a customer's project a success? What services and support does NSK have? And how does this help their customer's project succeed?
We have very deep customer resources. Customers can configure 3D CAD files of bearings and linear motion systems to optimize them for a specific application. We have a diverse literature library, we have training and education programs on our website that customers can access anytime on their own, from bearing basics to industry-specific training modules. NSK also has vast technical and engineering resources on a global scale, where we can then collaborate with customers together on those education principles, product selection, even advice on the customer's machine or system design. We can often influence and optimize their design, bringing a great deal of technical expertise customers wouldn't find elsewhere.
NSK is the subject matter expert when it comes to motion and control. That is one thing I would stress: the more the customer discusses, collaborates, and communicates with us, the more quickly we can help them make informed decisions and help them gain that experience with the product and the technology.
3-axis robot modules for precision lab and manufacturing applications
9. When is the best time for a customer to involve NSK in their project?
The sooner they get NSK involved or included in the discussions, the better. The sooner in the design cycle that a customer involves NSK, the more opportunities we have to educate, make revisions or changes, and in some cases, select more appropriate parts or design for what the customer wants to achieve.
NSK gets involved in a lot of conceptual projects, where the customer comes to NSK and says, "I want to do this, I just do not know how to do it yet." "I want to make a machine that freezes an ice pop and puts it into a plastic sleeve for grocery stores. I am not sure how to do that in the best way. Can you help me do that?" Even at the conceptual stage of a project, NSK can add a lot of value.
NSK is a solutions provider. We can assist with an entire solution. There are many complimentary products that are used with bearings. For example, an actuator that moves something back and forth usually needs to be powered by an electric motor. These components need sensors. The electric motor needs a control system to tell it when to move and how to operate with the rest of the assembly line. We strive to be a solutions provider as well as a component supplier.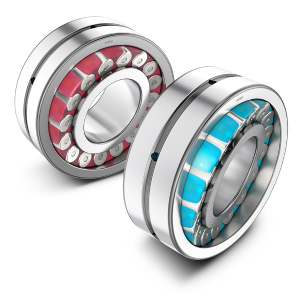 We look at efficiency and simplification on an entire system. Our experts provide value in the integration process, the combination of components, resources, and expertise together. This synergy of resources makes it easier, faster, and simpler for the customer, reducing their development time and resources, and their supply chain requirements.
NSK has teams of engineers available to talk directly with customers. This service is completely free. In many cases, NSK's engineering team will provide not only a solution, but an evaluation, a report of life expectations on the product, as well as even a visual design of what customers are looking for. Completely free of charge.
Molded-Oil™ spherical roller bearings with self-contained lubricant for water- or dust-contaminated environments
10. Jon, what is your advice for designers and customers when considering bearing products?
Do not be afraid and do not hesitate to have a dialogue with NSK. Contact the experts early, because there is a lot of value that NSK can bring on projects, designs, and applications that a lot of customers and engineers may not be aware of. For engineers, it is their responsibility to choose a product and find the final solution. NSK and others can help assist and add that value to reach a product quickly and easily.
The more that we can educate and fulfil our customers' needs as easily as possible, the better we are doing our job. We want to make it easy to do business, as well as educate and inform our customers to help give them experience with bearing products. The better we can do that, the better we are doing our job.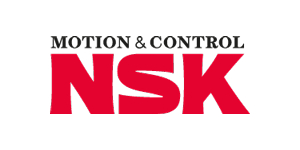 To learn more about NSK's products and solutions, visit their website by clicking here