Delivering Semiconductor Manufacturing Cleanroom Fire Safety
August 15, 2022
As semiconductor nodes become smaller and fire risks continue to increase, the industry is using very early detection fire safety devices to protect sensitive tools and processes from smoke contamination
For semiconductor fabricators, there is a critical need to protect the cleanroom environment from fires, as well as from the associated contamination from smoke particulate that can cause catastrophic product and process equipment damage.
For this reason, the National Fire Protection Association (NFPA) 318 Standard for the Protection of Semiconductor Fabrication Facilities stipulates requirements for smoke detection in semiconductor fabs. There is a significant fire risk within such environments due to the high volume of electrical equipment, continuous air supply, operation of fully automated processes, and presence of flammable and explosive substances. In addition to the fire risk, smoke detection is made more difficult by air movement caused by the forced ventilation required to maintain the sterile environment.
Air at these facilities requires significant monitoring for the presence of even minute amounts of smoke or aerosol particles, as do the individual fabrication tools used for deposition, resist, photolithography, etching and ionization. In the industry, a "tool" refers to any workstation, process machine or support cabinet located in the fab manufacturing cleanroom environment. Most are quite costly, with equipment worth millions of dollars sold as complete, enclosed systems including all electrical power, chemical storage and deliver systems, piping, robotics and instrumentation.
This equipment can pose a significant fire risk due to the use of combustible plastic materials, flammable and pyrophoric chemicals, and the presence of high voltage electrical power. The industry is also increasing its use of pyrophoric materials used in the process, which can spontaneously ignite when exposed to oxygen. Given the risks, highly sensitive smoke detection equipment is vital to protect both tools, and by extension, the facility.
"Any kind of fire can quickly become a potentially catastrophic scenario in a cleanroom due to the amount of equipment and product that is exposed to fire and smoke contamination," says Matt Wyman, chief executive officer and chief technology officer of Koetter Fire Protection International, LLC (KFPI), a Notifier by Honeywell Premier Dealer and a company that designs, installs and certifies engineered fire protection systems for semiconductor process tools.
Wyman began his career as a consultant and semiconductor specialist for FM Global. He is currently the chair for the fire protection standards of Semiconductor Equipment and Materials International (SEMI) S2 and S14, committee member on the NFPA 318 Protection of Semiconductor Fabrication Facilities standard, and active Board of Directors member in the Semiconductor Environmental Safety & Health Association (SESHA).
"If there is a fire in a fab, the most expensive part is the loss of production and cleanup," he adds. "Smoke comes in many different sizes. The micro contamination from smaller particulate can be as extensive as large particulates in significant fires. Contaminated equipment may even need to be replaced, as it can't be brought back to the purity level required for the manufacturing process."
According to Khaleel Rehman, director of development for the advanced detection fire team, Honeywell, very early fire and smoke detection is crucial to protect the consistent purity of materials used to fabricate components of electronic devices to maintain performance. For example, producing semiconductor-grade silicon involves cleaning polysilicon chunks to a purity of as high as 11N, which translates to 99.999999999%.
Wyman continues, "Smoke contamination can significantly lower product yields when fabs need to be in the high 90%. With semiconductor chips, the manufacturing processes takes days, weeks or months as many layers are formed. One small incident can ruin a large batch of chips, resulting in scrap of the products and starting over."
One concern at the tool level is the proximity of combustible materials to high voltage equipment, such as high-powered lasers used in metrology and photolithography processes and plasma-based systems used in ion implanters. "Some of the equipment in a fab tool requires extremely high voltages, so there are large capacitors, transformers and power supplies that can potentially create a fire hazard," says Wyman.
As a result, all systems must meet the safety standards set forth in the National Electrical Code® and by organizations such as NFPA and SEMI. Insurers may also have specific requirements for fire protection for any given type of tool.
"In equipment with higher-than-normal risks, especially from electrical hazards, it is fairly common for the fab tool OEM (original equipment manufacturer) to integrate high sensitivity smoke detection systems at the equipment level," says Wyman.
Generally, OEMs outsource the fire detection or suppression systems design, installation and validation testing to companies like KFPI, with work completed before the tool is shipped to the semiconductor manufacturing fab. For electrical hazards, the fire safety system includes the full integration of high sensitivity smoke detection systems like VESDA devices. For flammable liquid or combustible plastic hazards, the fire safety system includes flame detectors with suppression systems using CO2 or fine water mist (FWS).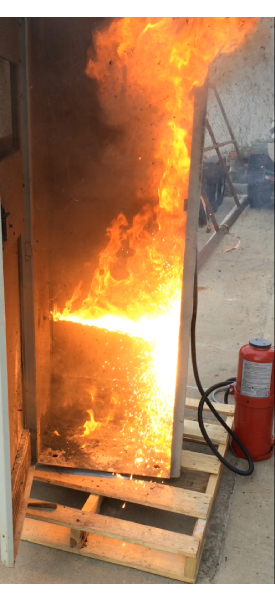 KFPI commonly installs and integrates an economical "mini VESDA" unit, such as the VESDA LaserFOCUS (VLF) from Notifier, within each tool. The VLF is designed to protect small tool manufacturing environments. Since semiconductor tools are essentially small rooms, the unit is well suited to the application. Available in two models covering up to 2,500 or 5,000 sq. ft., the detector works by continually drawing air into sampling holes in a pipe network. The air is filtered and passed into a detection chamber where light scattering technology detects the presence of very small amounts of smoke. The VESDA VLF supports a number of pre-engineered pipe network designs to simplify installation.
"Over the years, KFPI has had access to essentially every technology in the market and has not found any to be as precise and reliable as VESDA units, which are powerful and configurable if set up properly," says Wyman.
There are considerable airflow issues to manage given all the equipment within a tool, so KFPI must also properly mount and route the air sampling piping to enable it to reach all the critical areas. Before the tool is shipped to a fab, KFPI performs "wire burn" testing to validate that the unit detects the specified fire size or incipient thermal event and alarms properly.
"The VESDA enables sampling air across multiple detection points, which offers more flexibility in the design process. By knowing where the potential hazards are within the tool, we can work with the OEM to install a system that meets the fire safety requirements," says Wyman.
In KFPI's experience, VESDA units have proven to be effective in the field. Traditional spot smoke detectors simply do not work in these high airflow exhaust environments because the smoke particles are diluted to levels far below available alarm levels. High sensitivity smoke detection is required within these types of tool applications to provide real protection.
"We have seen a number of examples where a customer reported an alarm but thought the VESDA equipment was malfunctioning because there was no obvious smoke," says Wyman. "So, we downloaded the information in the event logs, analyzed the data, and determined the event was a valid alarm event. In one event, it was discovered that buss bars from a transformer capacitor were arcing. In another event, the culprit was an insulated heated jacket cable that was smoldering. With our experience and history in the industry, we don't use any high sensitivity smoke detection equipment other than VESDA."
Pyrophoric Liquids and Gases
Silane, a pyrophoric gas, has been one of the main chemicals used in the semiconductor industry since the beginning because it is used to make silicon. The growing use of pyrophoric liquids or metalorganics in semiconductor fabs is further elevating the potential fire and contamination risk because these compounds ignite when exposed to oxygen in the air.
"There have been fatal incidents in the industry when personnel opened cabinets and pyrophoric vapors that were leaking came into contact with the air and ignited," says Wyman. "Pyrophoric fires emit a large amount of smoke particulate and are nearly impossible to suppress."
Silane and other pyrophoric gases continue to be heavily used in the semiconductor industry. Because silane can catch on fire automatically when it comes into contact with air, previous fire safety standards and guidelines around the storage and handling of silane relied on flame detection as the primary means of fire detection, including ANSI/CGA G-13, NFPA 318, FM Data Sheet 7-108, and SEMI S18. It was determined a number of years ago that under certain pressure, flow and velocity rates, silane would not automatically ignite. Instead, the gas would leak out without ignition, and thus could only be detected by hydride gas (vapor) detection.
"If there is a large unreacted silane leak, the closure of the automatic safety shutoff valve after vapor detection can cause a delayed ignition, resulting in an explosion event," says Wyman. "For the protection of personnel, it is important for the Emergency Response Team to know if a leak has occurred and whether or not the pyrophoric vapors have ignited."
Trimethylaluminum (TMA), for example, is a volatile, colorless pyrophoric liquid used in various semiconductor processes. TMA was originally used primarily in advanced nodes, around 18nm and smaller, but is now being used in larger nodes also. TMA requires no ignition source other than oxygen to burn but the fire will become more volatile when exposed to the oxygen molecules in water.
The previous fire safety requirements for pyrophoric liquids (like TMA) allow the use of high sensitivity smoke detection or flame detection to detect a leak. This option is not the case for silane where flame detection is already required. So, when an OEM asked KFPI if VESDA could be used for silane, KFPI conducted a series of tests to determine if high sensitivity smoke detection would perform as well as flame detectors in various pyrophoric liquid and pyrophoric gas leak scenarios. In addition to testing very early smoke detection equipment, KFPI comparison testing included approximately six different types of flame detectors with technologies such as UV/IR (ultraviolet/infrared), multi-IR, triple IR and wideband IR.
"We did a considerable amount of vapor and liquid-based leak testing with all the different fire detection methods," says Wyman. "We simulated small fires, big fires, immediate ignition fires, delayed ignition explosions and even 'no fire' leaks (when the silane was below the lower explosion limits). In every case where any size fire or explosion occurred, the VESDA high sensitivity smoke detection triggered. On the other hand, the alarm responses from the various types of flame detectors were sporadic at best for a myriad of reasons."
He adds, "VESDA was the only fire detection system that detected the ignition every time, whether it was a continuous fire or explosion."
Based on the results, Wyman recommended to the NFPA 318 committee that high sensitivity smoke detection should be allowed as an option for silane, to match the requirements for pyrophoric liquids already written in the standard. The committee approved the changes and the new standard, which was released on September 15, 2021, is now published as the NFPA 318-2022 version.
"For semiconductor fab facilities concerned about potential damage from smoke contamination, having reliable fire detection equipment that is highly sensitive and can produce repeatable results is critical," says Wyman. "Given the large presence of high voltage production equipment and increasing use of pyrophoric liquids and gases within fab tools, there are increasing needs to install VESDA high sensitivity smoke detection systems. These are not only being proven in testing and field applications but are also increasingly included in regulatory standards."
For more information, contact Megan McGovern, Director of External Communications at Honeywell Building Technologies: email: megan.mcgovern@honeywell.com; or call: 404-216-6186.
By Del Williams
Del Williams is a Technical Writer who lives in Torrance, California.