Weidmüller Wins Two German Design Awards 2023
The Weidmüller company was awarded the German Design Award for its product "PV Next" and for the corporate film "From Detmold with Love"
March 16, 2023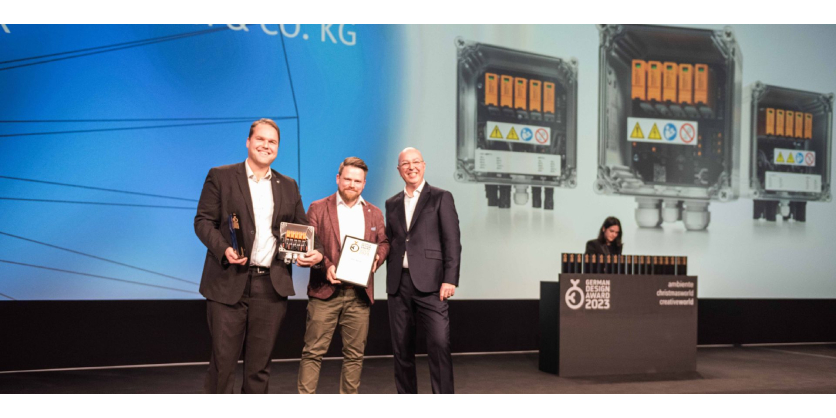 The Weidmüller company was awarded the German Design Award for its product "PV Next". The corporate film "From Detmold with Love" also received a German Design Award, having already won a German Brand Award last year.
The Weidmüller Group from Detmold has two reasons to celebrate: Both the generator junction box concept "PV Next" and the corporate film "From Detmold with Love" have convinced the German Design Council – and have each received a German Design Award.
Compact design, flexible connection types: With "PV Next", Weidmüller has developed the world's first generator junction box concept based on a standardised PCB design. The product enables installers of photovoltaic systems to work faster and save costs. In addition, "PV Next", as a connection between the inverter and the PV module, saves 50 percent of the wiring and protects the system against overvoltage.
The product thus makes an important contribution to making sustainable energy generation through photovoltaics and in particular the transformation from direct current to alternating current more efficient. "PV Next" was honoured by the jury with the highest possible award "Gold" in the category "Excellent Product Design".
For the corporate film "From Detmold with Love", the German Design Award 2023 is already the second award after the German Brand Award 2022. Since its premiere in autumn 2021, the film has shown the attention to detail with which products are developed and manufactured at Weidmüller. At the same time, it conveys the basic values of the Detmold-based family business with its authentic, down-to-earth style.
The concept of the film comes from Weidmüller itself. All the people featured in the film are employees of the family-owned company. The film received the "Special Mention" award in the category "Excellent Communications Design".
Related Story
The Executive Board of the Weidmüller Group is getting an additional member. As of 1st April 2023, Dr. Sebastian Durst will become the Company's COO (Chief Operations Officer). The expansion of the Executive Board is part of the growth course that the company has taken in areas such as production and logistics.