Rittal Introduces first western Canada Modification Partner E.B. Horsman & SonW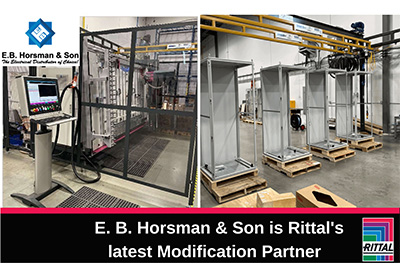 July 25, 2022
Rittal Systems Ltd. was recently pleased to announce that E B Horsman & Son, one of Rittal's major distribution partners, based in Western Canada, now offers Panel Modification Services following their acquisition of the Perforex machining centre, perfect for drilling, cutting, thread tapping, and milling enclosures and panels.
Says Tim Horsman, President, E. B. Horsman & Son, "E.B. Horsman & Son is pleased to be able to improve the enclosure buying experience for our customers, with in- house enclosure modification. We are delighted to be the only Rittal certified panel modification center in Western Canada. The Rittal Perforex machine allows us to customize enclosures to our clients' specifications in a timely fashion. We are now able to achieve even higher levels of customer excellence with the ability to design, modify and customize enclosures of all sizes right at our facility."
Established in 1900, E.B. Horsman & Son is the largest independently owned and operated electrical wholesaler in Western Canada. With 21 strategically placed locations, the Company recognizes that in this fast-paced world, they must constantly enhance their capabilities to meet the ever-changing needs of the electrical, industrial automation, and communications markets. E. B. Horsman and Son purchased the Perforex machine, after realizing that it would benefit their rapidly growing organization by saving valuable time and resources. At the same time, being able to offer their customers the 'floor to door' experience, was important to them.
From Design to Implementation
If requested, E.B. Horsman & Son can provide Engineering Design support by assisting with enclosure layout and drawings. Jobs can be saved to create identical or modified designs in the future, a great feature for repeat jobs.
Adds André Bousette, President, Rittal Systems Ltd., Canada, "E. B. Horsman is Rittal's Platinum level partner as they not only excel in specifying the right Rittal enclosure solution for any project or application, but they have really embraced the Value Chain of Manufacturing right from design to delivery of solutions, with the Perforex Machining Centre and EPlan."
To learn more about the Perforex Machine's capabilities, watch this video.
To learn more about E. B. Horsman's Panel Modification Services, visit: https://ebhorsman.com/services/perforex-custom-enclosures/