Rexroth On Location: The Future of Factory Automation Webinar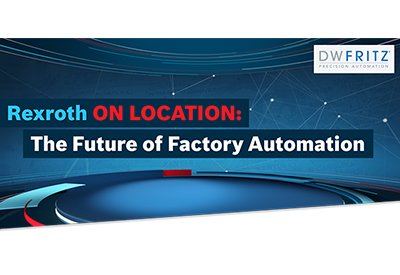 February 25, 2021
WEDNESDAY, MARCH 24, 2021
11:00 AM PST / 2:00 PM EST
Bosch Rexroth, along with the precision automation company DWFritz Automation, will come together to discuss a completely customized automation solution developed by DWFritz that integrates multiple Rexroth technologies.
This webinar will go behind the scenes to explore the challenges and technology used in creating a complex, high speed, production line – turning a vision into a factory of the future, and getting it to market in record time.
Moderated by Gary Mintchell, founder/CEO The Manufacturing Connection and co-founder/former editor at Automation World, this discussion is applicable to anyone managing complex automation projects and will cover several concepts, including:
– Managing the design-build process to shorten lead times and accelerate time to market
– Rexroth's advanced automation and electrification technology, with the new ctrlX AUTOMATION controls platform, compact servo drives and integrated motor/drive solutions
– Configurable linear motion technology for Cartesian systems
– Conveyor system integration
– Successful collaboration for engineering, logistics and fulfillment
Learn how Bosch Rexroth can help you solve your challenges in factory automation.