Ontario Secures Another Milestone Auto Investment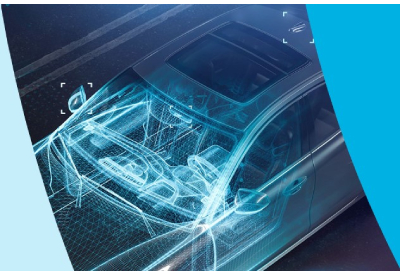 April 7, 2022
The Ontario government is supporting a more than $2 billion investment by General Motors of Canada Company with up to $259 million in grant support to transform the company's Oshawa and CAMI manufacturing plants, as well as improvements across all of GM's manufacturing and R&D facilities in the province. These investments will pave the way for GM's first electric vehicle (EV) production line in Ontario in Ingersoll and the continuation of vehicle production in Oshawa, while ensuring the vehicles of the future are built in Ontario and sold across North America.
"This vote of confidence by General Motors in Ontario is more proof that by attracting game-changing investments our government is securing our auto sector for the next generation of workers," said Premier Doug Ford. "This investment will secure 2,600 jobs here in Oshawa and is a huge win for the people of Durham and Ontario's auto sector. It shows once again that the cars of the future will be made right here in Ontario, by Ontario workers."
With support from the provincial and federal governments, GM Canada's historic investment will add light-duty Chevy Silverado pickup production and a third shift at its Oshawa plant, creating more than 2,600 new, local jobs since operations resumed at the plant. The investment will also secure electric commercial vehicle production at the CAMI plant in Ingersoll, becoming GM's designated EV hub for its new all-electric commercial vehicle brand BrightDrop, and the first full-scale electric vehicle production facility in Canada.
The size and scope of this investment will accelerate the speed of Ontario's 10-year vision for the Driving Prosperity ― The Future of Ontario's Automotive Sector plan. Phase 2 of Driving Prosperity is an important part of the government's plan to transform the province's automotive supply chain to build the cars of the future, including the production of hybrid, battery electric vehicles, EV battery production and increasing exports of Ontario-made auto parts and innovations.
"Ontario is proud to support GM's major investment in their Oshawa and Ingersoll plants to manufacture the company's next-generation models, including the new all-electric BrightDrop commercial vehicle," said Vic Fedeli, Minister of Economic Development, Job Creation and Trade. "By reducing the cost of doing business in Ontario by nearly $7 billion annually, our government has created the right economic conditions to attract yet another historic investment that further positions Ontario as a North American leader in developing and building the cars of the future.
"Through this game-changing investment, GM has deepened their commitment to Ontario and its workers, and advanced Ontario's drive to become one of the most vertically integrated automotive jurisdictions in North America. It will secure thousands of well-paying, high-quality jobs and manufacturing operations in Oshawa and Ingersoll for years to come while also bolstering the province's presence in the EV space.
"Working with our government partners we have reopened our Oshawa plant, creating thousands of new jobs and recruiting a record number of women in production roles. Later this year, our CAMI plant in Ingersoll will begin Canada's first full-scale electric vehicle manufacturing with BrightDrop," said Marissa West, GM Canada President and Managing Director. "This partnership with the governments of Ontario and Canada is helping GM build a more diverse, innovative and sustainable industry and EV supply chain for the future – and we are proud to be doing that right here in Canada.
"Ontario's top-quality manufacturing talent, clean and competitive electricity, access to investment-ready sites, and commitments to streamline the approvals process continue to make the province a destination for major investments, ensuring that everyone in Ontario benefits from the auto sector's long-term growth and success.
Today's more than $2 billion investment by GM Canada builds on other recent historic investments that continue to transform Ontario's automotive manufacturing sector. Over the last several months, Ontario has attracted $10 billion in game-changing investments by Ford, ArcelorMittal Dofasco, Honda, and a joint venture between LG Energy Solution and automaker Stellantis to build the province's first large-scale electric vehicle battery manufacturing plant in Windsor. These important investments will help secure the province's position as a competitive player in the emerging North American EV auto market.
Quick Facts
•The Government of Canada is making a matching contribution of up to $259 million toward the project.
•Founded in 1918, GM Canada is the longest-established automaker in the country after Ford Motor Company of Canada.
•GM's investments in Ontario encompass the entire automotive ecosystem, including vehicle assembly, engine manufacturing, research and development, and vehicle testing.
•Over the past 18 months, the automotive sector in Ontario has seen more than $12 billion in investments for new vehicle production mandates and battery manufacturing, including this one by General Motors of Canada.

More than $5 billion of these investments are in transformative hybrid and electric vehicle production at Ontario assembly plants.

•Vehicle assembly and auto parts production directly supports nearly 100,000 Ontario jobs, with hundreds of thousands more spin-off jobs in communities across the province.
•Ontario is building on the growing success of Ontario's Ivy Charging Network by investing up to $91 million to add more EV chargers at locations like highway rest stops, carpool parking lots, Ontario Parks, and in community hubs, like hockey arenas and municipal parks.
Quotes
"In Oshawa, Ingersoll, and communities across Ontario, auto manufacturers are stepping up to meet demand for clean vehicles and creating thousands of good jobs in the process. Today's investment is an investment in our workers, our communities, and our future. Partnerships like these are critical to putting Canada on the cutting edge of the clean economy, creating thousands of new jobs, and making sure that future generations have a clean environment to live in."

– The Rt. Hon. Justin Trudeau
Prime Minister of Canada
"The manufacturing sector is a key economic development driver in the Region of Durham, and I am pleased to see our government investing in this important regional sector today. Today's investment will lead to good-paying jobs for local residents, and long-term regional prosperity."

– Lorne Coe
MPP for Whitby and Chief Government Whip
"This historic announcement is part of our workers-first plan for stronger families and a future that works for everyone. I'm proud that our government is working for workers every day to build an Ontario where hard work pays off. We will continue to lead the way – not only in Canada but across North America – in building an economy that is about the people on the front lines."

– Monte McNaughton
Minister of Labour, Training and Skills Development
"I'm pleased to see GM invest in such an important industry in Ingersoll. This investment will help to secure GM's CAMI Assembly Plant as a leader in electric vehicle production and secures many well-paying jobs for workers in our communities."

– Ernie Hardeman
MPP for Oxford
"This is proof that Canada's auto sector is here for the long term. What today's announcement means for Canadians is more jobs, more clean vehicles and more economic growth. GM's continued commitment to its facilities in Canada, and its decision to set up the country's first electric vehicle production facility, highlight how Canada is a world leader in building the vehicles of the future."

– The Honourable François-Philippe Champagne
Minister of Innovation, Science and Industry