Omron Honours Proax Technologies as 2022 Strategic Partner of the Year
The trusted Canadian automation partner, Proax Technologies, has engaged with Omron on a variety of projects and have consistently drive year-over-year growth
July 14, 2023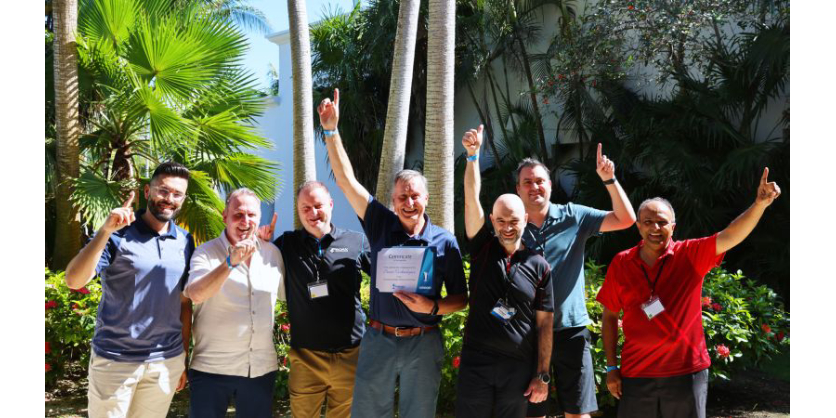 Industrial Automation solutions provider Omron Automation Americas is proud to announce Proax Technologies as its Canadian Strategic Partner of the Year. This prestigious award recognizes Proax's outstanding contributions and dedication to Omron and its customers over the past year. Proax is a trusted Canadian partner that has engaged with Omron on a variety of projects and is a leader in automation distribution.
"We are thrilled to recognize Proax Technologies as our Partner of the Year," says Peter Brouwer, Vice President of Sales, Omron Automation Americas. "Proax's leadership in the automation distribution space has been of great value to us as we work towards driving customer success and accelerating growth. We look forward to continuing to work together to deliver exceptional results."Peter Brouwer, Vice President of Sales, Omron Automation Americas
"On behalf of Proax and our staff, I am truly honoured and grateful to receive the Canadian Strategic Partner of the Year award from Omron Automation," says Stephen Daub, Proax President and CEO.Stephen Daub, Proax President and CEO
Proax has consistently driven year-over-year (YOY) growth, in FY22 the company increased point-of-sale revenue by 20% YOY. The company's commitment to innovation and customer service excellence has resulted in significant business growth and customer satisfaction.
"This recognition is a testament to our team's dedication and hard work in delivering innovative automation solutions to our customers, while maintaining the highest standards of quality and service," says Daub. "We are committed to continuing our strong partnership with Omron and providing our customers with the latest technologies and best-in-class support. Thank you, Omron Automation, for this recognition and for your continued trust in Proax Technologies Ltd."Stephen Daub, Proax President and CEO
The Distributor of the Year award is an important recognition of the critical role that partners play in Omron's success, reflecting a commitment to building strong partnerships that enable the automation solutions provider to deliver value to customers and achieve strategic goals. Industry professionals seeking local automation expertise can find an Omron Certified Partner.
About Proax Technologies
Proax Technologies has over 60 years of experience in offering innovative products and solutions in the areas of automation, robotics, motion control and machine safety. Proax is dedicated to fulfilling customers' needs across all Canadian regions.
Related Story
Today, more industries are starting to adapt these same track and trace processes, not necessarily to protect themselves in the event of a recall or issue, but because they recognize the advantages the data from traceability can provide. They see the potential for using this data in a proactive way. 
Data is the secret to any successful IIoT (Industrial Internet of Things) outcome; however, it is not only important to collect the data, but to also identify the critical data and aggregating it with other sources to create a holistic view. Measuring and analyzing the proper data is important because you cannot improve what you cannot measure.