Join SEW-Eurodrive at ADM Montréal November 9-10, 2022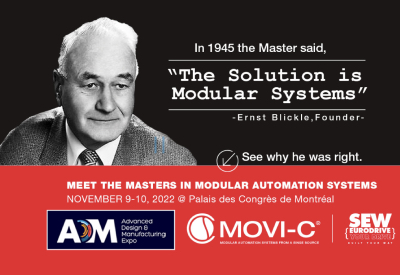 November 3, 2022
SEW-Eurodrive Company of Canada Inc. is a supplier of choice among Canadian companies from pulp and paper to mining, food and beverage processing, and manufacturing. This outstanding success is based on the company's ability to offer rugged, reliable drive products backed by an infrastructure that offers extensive support for SEW customers from coast to coast.
They are thrilled to announce that they will be participating at The ADM Montréal live event and would like to invite you to the show.
ADM Montréal brings together five advanced manufacturing areas — Design & Manufacturing, Automation Technology Expo, PACKEX, EXPOPLAST, and Powder & Bulk Solids.
This all-in-one, industry-wide event lets you explore the latest trends and technologies shaping the future in advanced design and manufacturing across automation, robotics, energy efficiency, packaging, plastics, processing and more to accelerate your business goals and grow your career.
SEW looks forward to seeing you this November! Register here
Show Features:
Top-name suppliers in packaging, plastics, automation, robotics, and processing technology will be ready to solve your toughest challenges, including PLEXPACK Corporation, VC999, FANUC, Absolute Haitian, Hatch, and more. Access expert-led sessions focused on plastics, automation, processing, packaging, and manufacturing on the show floor, Included in your free expo pass. This is your opportunity to learn about the latest innovations and solutions during live demos presented by exhibitors. Ask questions and get expert insights.
Don't miss the New Product Showcase where more than 12 companies will host 15-minute live demonstrations at their booths, offering a close examination of new and improved solutions for your applications.
Download the mobile app by searching ADM Montréal in the app store for the most up-to-date companies, booth numbers, schedule, and more.
Attend panel discussions and expert-led educational sessions to deepen your industry knowledge and bring you up to date on the latest industry trends. Topics include Plastics Recycling, Packaging and Sustainability, Robotics and Food, and Dust Management.
Join us at the Welcome Reception on Wednesday; then network with like-minded engineers, designers, and decision makers on the show floor during our Booth Crawl on Wednesday and Thursday.
DOWNLOAD THE EVENT APP! SEARCH FOR ADM Montréal 2022