Sloped-Top Stainless Steel Disconnects Now Offer Control Switch from Mennekes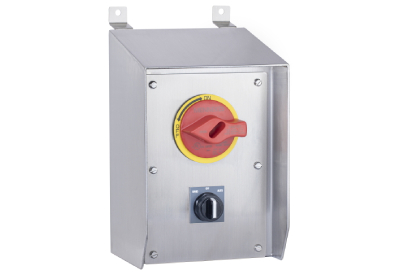 March 1, 2022
In MENNEKES' last blog post, they discussed their non-metallic, curved-top CDS disconnect switches with an optional three-position selector switch, saving valuable installation space, reducing parts and improving safety for maintenance personnel. These same features and benefits also extend to their sloped-top stainless steel motor disconnects, which incorporate a 15-degree sloped roof to facilitate liquid run-off in washdown applications.
The HAND-OFF-AUTO (HOA) selector switch option is available in their SLP stainless steel motor disconnect program with 30A to 100A ratings. Adding this control switch option improves safety for maintenance personnel, while the stainless steel enclosure offers robust impact resistance in high traffic areas.
The new HOA switch is just one of the many features you can expect with MENNEKES stainless motor disconnects. These units also include the following:
•UL Type 4X; 12; IP69K environmental ratings.
•Removable cover with captive hardware.
•External mounting feet or optional internal mounting with sealing caps.
•SCCR: 65kA RMS symmetrical (when protected with Class J Fuse).
•Generous drainage channel to prevent harborage of contaminants.
•Rugged, UV-resistant handle complies with OSHA LO/TO regulations.
•In-house endurance testing to 10,000 (electrical) and 100,000 (mechanical) cycles.

To learn more about our motor disconnects with the selector switch option, please visit their product page by clicking here