Siemens Xcelerator: Increasing Productivity and Sustainability in Parts Manufacturing with Machinum
August 16, 2023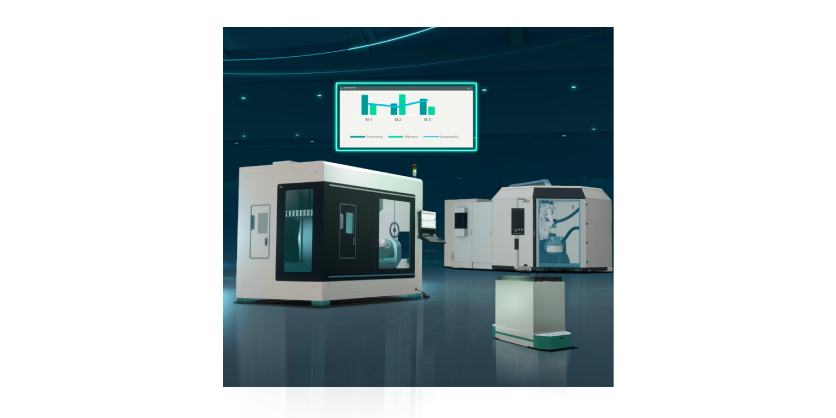 Siemens Xcelerator: Increasing Productivity and Sustainability in Parts Manufacturing with Machinum
CNC digitalization portfolio Machinum is integral part of Siemens Xcelerator with focus on parts manufacturing
Analyze and optimize machine tools with Machinum
Make digital transformation easier, faster and scalable with Siemens Xcelerator
Under the motto "Accelerate transformation for a sustainable tomorrow", Siemens will be presenting at this year's EMO how companies in the machine tool industry can meet energy efficiency and sustainability requirements while at the same time meeting the demand for high-quality, affordable, and individualized products.
Based on automation, the key to meeting these challenges lies in digitalization and the associated data transparency. Only a digital enterprise is able to combine the real and digital worlds and make the right decisions using smart software tools in order to produce flexibly, quickly and sustainably.
CNC digitalization portfolio for the machine tool industry
For this purpose, Siemens is presenting Machinum at EMO. Machinum comprises the entire CNC digitalization portfolio for increasing productivity and sustainability in parts manufacturing. With Machinum, machine tools and manufacturing areas can be analyzed and optimized, both virtually and in real life. Machinum combines modern IT (information technology) with modern OT (operations technology).
Based on Siemens' industrial expertise, Machinum thus creates productivity gains in many industrial use cases. Machinum is an integral part of Siemens Xcelerator, the open digital business platform that includes a portfolio of software and IoT-enabled hardware, an ecosystem of partners and a marketplace.
With Machinum, companies in the machine tool industry can make digital transformation easier, faster, and scalable in both manufacturing and design. Combined with Sinumerik One, the Digital Native CNC control, which is also part of the Siemens Xcelerator portfolio, a transformation towards the Digital Enterprise succeeds – for future-proof and sustainable manufacturing with machine tools.
More Information
EMO 2023 – On-site & Digitally
Related Product
Siemens recently introduced the Virtual Product Expert (VPE), a new support program for its CNC machine tool users, machine builders, dealers and importers.  Through the VPE program, customers can now interact directly with a SINUMERIK CNC product expert and have their specific operation and programming questions answered — from the basic functions of the control to the most advanced machining technology aspects of the hardware and software suites.  Best of all, this service is offered to all Siemens CNC community members at no cost.