Parker: Gantry Robot System 1 – Two Axis XX"-Y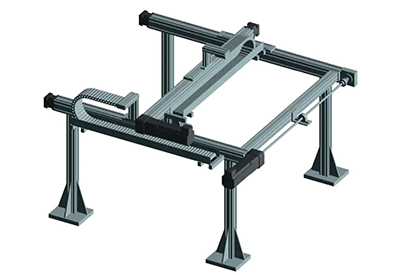 January 14, 2021
Providing a cost-effective and easy to integrate solution, Parker's seven standard gantry system configurations are designed to satisfy the vast majority of gantry robot applications. By standardizing on these configurations, Parker has simplified sizing and selection, shortened lead times, and reduced costs for users of these systems. The travels and loads indicated are nominal, and should not be considered limiting factors. Longer travels and increased loads are attainable depending upon the combination of parameters.
"System One" provides two axes of horizontal motion. The primary axis (X) is comprised of two HPLA or HLE Linear Modules linked by a common drive shaft, and the secondary axis (Y) is comprised of one HPLA or HLE Linear Module. These linear modules are capable of high speeds and accelerations over long travels. This system is designed for rapid transport of light to moderate loads in a single horizontal plane.
Inaddition to their standard gantry systems, Parker offers products with additional capabilities to fulfill the needs of special applications. Their engineering skill and manufacturing expertise have integrated these products into custom-tailored gantry solutions which have successfully addressed the most unique and exacting requirements of machine builders and integrators around the world.
Markets:
Industrial Manufacturing
Automotive
Packaging/Warehouse
Food & Beverage
Features/Benefits:
Available with motors, drives and controls for a complete system solution
Extended travels available upon request
Rotary motion modules available as addition
Cleanroom preparations if required
External position feedback available
Vertical axis brakes to prevent damage in power failure
Can add various end effectors
Protective guarding available for rough applications
Custom support structures can be included
Applications:
Factory Automation
Palletizing
Material Handling
Pick & Place