New Silencer Box from Schmalz: Safe on the Inside and Quiet on the Outside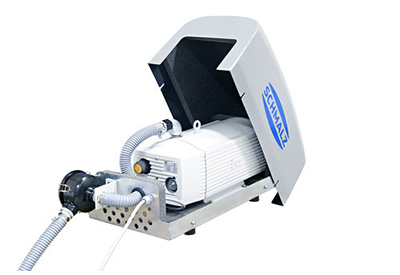 January 13, 2021
Schmalz has developed a new silencer box for the vacuum pumps in its EVE 25-50 series. The box is not only more compact than its predecessor, it also protects the vacuum generator from external contamination. The user can now lower the sound level by up to nine decibels, dissipate operating noises in a targeted way and further reduce noise pollution as a result.
Schmalz offers the new silencer box as an accessory for the vacuum tube lifters in the JumboFlex series. It is suitable for the small vacuum pumps EVE 25 to EVE 50. The silencer box protects the component from external contamination and reduces the noise level by up to nine decibels. That provides for a much more agreeable working atmosphere in production and logistics halls. The metal tray on the box is made from galvanized steel, while the hood is made from impact-resistant ABS plastic. On the underside of the metal tray, rubber buffers are installed that absorb the vibrations produced. The operator can choose to install the box on the floor or mount it on a wall or a crane column with the aid of the optional blower console to save space. Thanks to its more compact dimensions, the silencer box can now even be installed on the base plate of a column-mounted jib crane without protruding.
The new silencer box also lets you integrate an optional dust filter for protecting the vacuum generator in vacuum handling systems. The dust filter keeps dirt and dust particles away from the vacuum pump and is recommended by Schmalz for every application. The filter is installed directly on the metal tray of the silencer box, which makes it quick and easy to clean without having to remove the hood. An air scoop installed on the exhaust side allows for targeted noise dissipation. It is positioned facing upward or downward depending on the mounting conditions. This new feature makes the noise level even lower.