Mobile and User-Friendly: New High-Performance OHV210 Series Handheld Readers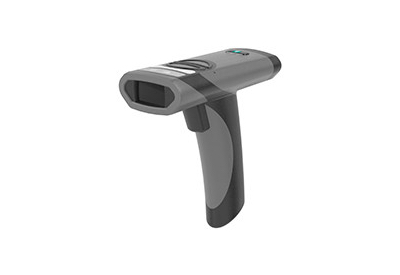 November 10, 2022
With the OHV210 mobile handheld readers, Pepperl+Fuchs is expanding its range of handheld readers to include an extremely powerful variant: on the one hand, the new devices are equipped with a Bluetooth® 5 interface for low energy consumption. On the other hand, the OHV210 handheld readers reliably read all common 1-D and 2-D codes—even on reflective or differently colored surfaces. In addition, they offer a very high resolution of 1.2 megapixels. The combination of dual optics and high resolution makes it possible to read both large and very small codes with a module size of only 0.1 mm with one device.
Mobile and Stationary Code Reading with the OHV210 Series
The handheld readers of the OHV210 series can be used both mobile and stationary in charging mode. The recorded data is transmitted wirelessly to the charging station via Bluetooth® 5. The Quick Connect code ensures simple connection of the handheld reader to the charging station. From there, the data is automatically transferred to the desktop PC or to smartphones or tablet PCs via the USB interface.
The handheld reader's charging station offers particular advantages during picking processes: As soon as the device is plugged into the charging station, the motion detection mode is automatically activated. Users can then simply hold the packages with the codes under the charging station and the handheld reader automatically reads the codes through the reading window in the station. To perform the code reading at another location, users can remove the device from the charging station again and start mobile reading.
Due to inductive transmission, no mechanical contact is required to charge the OHV210—the handheld reader is simply plugged into the charging station. In addition, the devices in the OHV210 series have replaceable batteries. Their charge status can be conveniently displayed at the touch of a button.
Vision Configurator for Convenient Formatting of Output Strings
The Vision Configurator parameterization software offers a further simplification in practical use. It allows the output string to be adapted to the input of the ERP system simply by "drag and drop". This eliminates the need for time-consuming and costly adjustments on the ERP side. Larger adjustments can be made by additional programming of the handheld readers with JavaScript.
In addition, the OHV210 series devices provide user feedback in the form of vibration, LED or acoustic signals. This makes them not only user-friendly, but also versatile for indoor and outdoor use due to degree of protection (IP65).
Highlights of the OHV210 Series Handheld Readers
•Reading of all common 1-D and 2-D codes, even on reflective surfaces
•Bluetooth® 5 for low power consumption
•Dual optics and high resolution of 1.2 megapixels for reading small and large codes with only one device
•Automatic reading in charging mode by charging station with viewing area
•Noncontact charging and replaceable batteries with charge indicator
•Degree of protection (IP65)
To learn more about the OHV210 Series Handheld Readers from Pepperl+Fuchs, click here