Meca500 EtherCAT Master Controller Kit Available Only at Electromate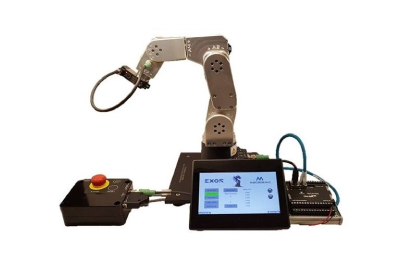 March 4, 2022
The Meca500 EtherCAT Master Controller Kit is a pre-configured kit that contains everything you need to get a Meca500 6-axis industrial robot commissioned right out the box. It is the perfect solution for pick and place and robotic assembly applications requiring precise and repeatable positioning. The Kit includes PLC code examples that will greatly speed up the development of your project. Customers can save up to a week's set-up time with Electromate's preconfigured Kit solution.
Kit Components
The Meca500 6-axis industrial robot is a plug-and-work automation component. This robot is a slave component rather than a master, which makes it very easy to integrate via any computer or PLC. The Meca500 doesn't require any training courses, software installations, or additional option purchases. There are no proprietary programming languages: Commands are ASCII NULL terminated strings sent through TCP/IP. All major programming languages (C, C++, Python, LabView, etc.) that can handle TCP/IP socket programming can be used. Firmware updates are included.
Developed in collaboration with SCHUNK, the MEPG electric parallel gripper is fully integrated with the Meca500 robot. In addition to using integrated open and close commands, you can adjust the force and velocity of the grip. The electric gripper is supplied with an adapter plate. You can choose between two cables: one with 90° connectors (as shown above) or one with straight connectors.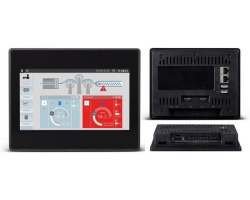 An industrial HMI with high level functionality. The eSmart107 has an ARM Cortex dual core CPU, 2 Ethernet ports, 2 CAN ports, 4 Serial ports, 2 USB ports. The unique connectivity ability of JMobile allows the eSMART107 to communicate with a vast library of critical protocols as well as OPC UA standard and pub/sub server and client.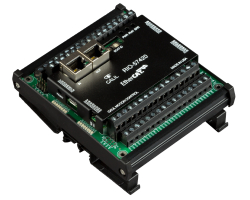 A compact, cost-effective EtherCAT I/O slave module. It is packed with digital and analog I/O to be used remotely in an EtherCAT automation system. Each RIO-574×0 has 16 optoisolated digital inputs and 16 high-power, 500mA sourcing, optoisolated digital outputs. The RIO-57420 is expanded to include 8 analog inputs and 8 analog outputs, both configurable in the ranges of 0-5V, 0-10V, ±5V, or ±10V. The RIO-574×0 can be configured over USB in a few steps.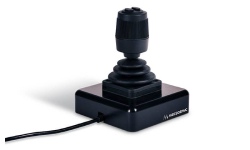 The Mecademic web interface supports external six-axis and three-axis USB joysticks. Connect them to your PC and use them for jogging our robots via their web interface. You may use 3Dconnexion's six-axis SpaceMouse. However, Mecademic's three-axis joystick is better suited for precise manipulation thanks to its Hall effect sensors and stiffer springs.
To learn more about the Meca500 EtherCAT Master Controller Kit from Electromate, click here