HMS Networks Expands the Anybus Brand with Anybus Diagnostics
April 28, 2023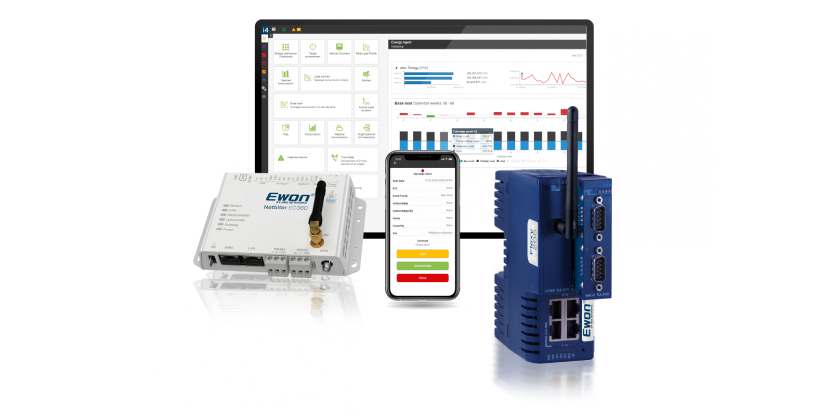 HMS Networks announces the expansion of the Anybus® brand with the introduction of Anybus Diagnostics, a new business line focused on helping industrial companies avoid costly unplanned downtime.
Industrial automation is becoming increasingly important within manufacturing and other parts of the industry. A critical factor for ensuring full operation and efficiency of automation systems is the reliability of the industrial networks used in these systems. To address this growing need, HMS Networks is expanding the scope and direction of the Anybus brand with the launch of a new business line – Anybus Diagnostics – offering products and services to ensure network uptime and security.
Preventing unplanned downtime
Unplanned downtime is an extremely costly problem for industrial manufacturers worldwide, with an estimated annual cost of $50 billion that continues to rise [1].
While companies are constantly taking steps to mitigate the costs of unplanned downtime, the most effective solution is to prevent it from happening in the first place. Anybus Diagnostics addresses this matter by taking a proactive and cost-effective approach to equipment maintenance. With Anybus Diagnostics, customers get the ability to constantly monitor their equipment and network communication, enabling them to proactively address potential issues before they result in costly downtime and repairs.
How Anybus Diagnostics helps
Anybus Diagnostics offers a comprehensive range of products and services to help industrial companies avoid costly unplanned downtime:
Permanent Monitoring
One of the main problems with industrial networks is that companies are not actively monitoring network performance and therefore cannot fix issues before they become problems. Anybus Diagnostics offers network monitoring solutions that provide permanent and real-time monitoring of PROFIBUS and Industrial Ethernet networks, enabling companies to identify and resolve issues before they impact performance.
Segmentation
Many companies want to keep using their existing fieldbus networks and often choose to expand their networks by adding new devices in a daisy chain topology. However, this approach poses a significant risk, as a problem in one device can cause the entire network to fail, resulting in unplanned downtime. To solve this issue, Anybus Diagnostics provides network segmentation products that divide the network into separate segments, isolating any issues and preventing them from impacting the entire system. By utilizing multiple tap points, network segmentation not only minimizes the risk of downtime but also simplifies troubleshooting by allowing engineers to swiftly identify and resolve issues without disrupting the rest of the network.
Network insights
Troubleshooting errors in industrial networks can be challenging, as it often requires extensive experience and knowledge of various industrial protocols. As networks become more complex, identifying and resolving issues become even more difficult. Anybus Diagnostics solves this problem by offering AI-powered software that can quickly and accurately analyze the network to identify the root cause of any issues. This advanced technology reduces the need for field engineers to have years of experience and detailed knowledge about the network in question. The troubleshooting process becomes very streamlined and efficient, ultimately saving companies time and money.
Education and Training
A well-working, healthy industrial network is not only built upon reliable hardware and software –companies also need skilled professionals. This is why Anybus Diagnostics offers e-learning and certified training programs that equip engineers with essential skills and knowledge to enable them to increase uptime in their factories. The training programs provide hands-on experience and enable engineers to design, install, maintain, and troubleshoot industrial networks effectively. By utilizing Anybus Diagnostics' training programs, companies can close any knowledge gaps in their staff, resulting in improved performance, increased uptime of their industrial networks, as well as peace of mind.
Simon Mortazavi, Business Line Director for Anybus Diagnostics at HMS Networks comments upon the launch of Anybus Diagnostics, "We are thrilled to add the Anybus Diagnostics business line to our existing portfolio of Anybus products and services. Anybus Diagnostics will offer customers a comprehensive range of solutions to help them tackle the significant challenge of unplanned downtime that is known to have a severe impact on manufacturing. With the Diagnostics line introduced, the Anybus brand is now fully equipped to provide end-to-end industrial connectivity solutions. We help our customers to get connected – and stay connected."Simon Mortazavi, Business Line Director for Anybus Diagnostics at HMS Networks
Notes:
"Predictive maintenance and the smart factory," [Online]. Available: https://www2.deloitte.com/us/en/pages/operations/articles/predictive-maintenance-and-the-smart-factory.html.
More Information
Related Product
HMS Networks now releases the Anybus® Wireless Bolt™ II, an industrial Wi-Fi 5 access point (AP) and wireless distribution system (WDS) client. While remaining as user-friendly as its predecessors, the Wireless Bolt II features even better durability, security, and performance. With faster speeds and increased throughput, it is an excellent complement to the existing range of Wireless Bolts and an ideal choice for applications that demand high data transfer rates.