Festo's VTSA-F-CB Valve Terminal Provides More Communications, Greater Safety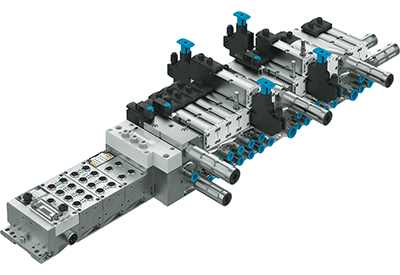 November 26, 2020
Festo's heavy duty VTSA series valve terminal family keeps expanding – this time, it's the VTSA-F-CB, with serial communications added to the existing parallel communications capability. That means fewer components and reduced wiring within the same installation space. In addition, the VTSA-F-CB's internal bus system allows users to actuate up to 96 valve addresses, instead of the usual 32, and in four zones, on just the one valve terminal and one fieldbus node.
The VTSA series is Festo's most flexible valve terminal concept, widely used in medium and heavy industry. It's capable of handling many ISO sizes or high flow valves. With the VTSA-F-CB, it is possible to freely mix 18 mm and 26 mm valves on the same manifold, reducing size and cost of the manifold.
VTSA-F-CB features four different CPX/pneumatic interfaces for maximum integration flexibility: A basic interface when safety control is not required, two integrated PROFIsafe versions (one to control three safe valve zones, another to control two zones with one safe output), and the last version that makes it possible for an external safety fieldbus module to directly control three pneumatic safety zones. The VTSA-F-CB configuration options include a pilot air switching valve, for applications where increased safety is required like manual work stations, and a safety soft start/quick exhaust valve for slow start-up to operational pressurization in a safe and controlled manner. And the new vacuum generator VTSA-F-CB has an air saving feature with ejector pulse. When the correct vacuum level is achieved the generator will automatically turn off. Extensive diagnostics and parametrization of setpoints are possible.
For more information, visit www.festo.com.