Updated Edition of ISO 3691-4 Published
The updated edition of the international standard for automated guided vehicle systems has been available since June 2023.
November 2, 2023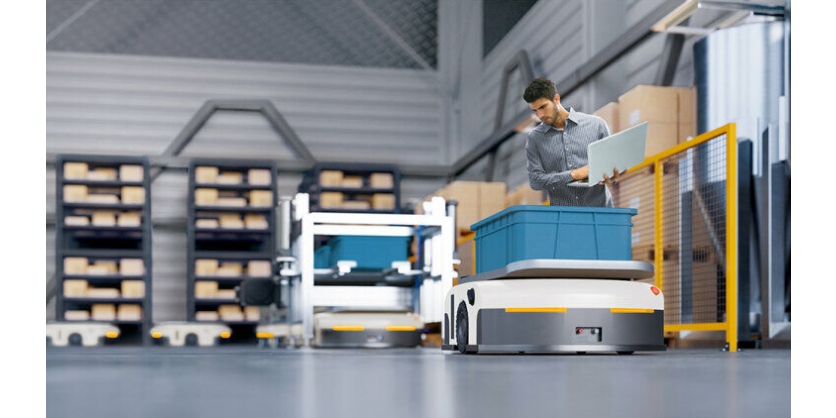 What is ISO 3691-4?
ISO 3691-4, "Industrial trucks – Safety requirements and verification – Part 4: Driverless industrial trucks and their systems" is the most important international standard for automated guided vehicles (AGV) and vehicle systems (AGVS). It was published in 2020 and applies to manufacturers as well as operators. It defines the requirements (performance levels) of the safety functions of AGV and AGVS, such as the setup for the detection of persons, modes of operation and the braking system. It also describes the procedure for risk reduction and validation of the automated functions, to guarantee smooth and safe operation of the AGV and AGVS in their final installation environment.
The key changes for manufacturers and operators
The updated edition of the standard ISO 3691-4 has been available since June 2023. The update was necessary in order to adapt the standard to the state of the art and define the requirements more clearly.
Here are some of the subjects that have been defined more clearly or expanded in the updated version of ISO 3691-4:
Detailed requirements for the "active detection field" and the "operational stop"
More precise definition of the "Stop function", including the maximum distances between the emergency stop devices
Updated requirements for access and protection of passengers on AGV
Better correlation with the electrical requirements of EN 1175:2020
Description of additional hazards, such as transport, temperature, emissions, electrostatic aspects etc.
The current version of ISO 3691-4 also describes the framework conditions that must apply to allow the system to operate at higher speed in the so-called "restricted zones". In this case, a detailed analysis and assessment of the hazards and the implementation of corresponding additional measures are required.
More Information
For you, Pilz always has a finger on the market's pulse: Of course, their training courses are based on the latest standards and requirements and are regularly updated. Pilz's international online training enables practical professional development, live from anywhere. Learn more here
In addition, Pilz offers comprehensive solutions and services to manufacturers and operators of AGVs: From development of the system concept in the design phase through to commissioning, they can accompany you as a partner with their expertise, so that your AGVs run with maximum safety. Learn more here
Related Story
IEC 62061 / EN IEC 62061 represents a sector-specific standard under IEC 61508. It describes the implementation of safety-related control systems on machinery and examines the whole lifecycle from the concept phase through to decommissioning.