May 23, 2023 By Krystie Johnston Who is AGILOX? AGILOX is one of the fastest-growing manufacturers of innovative advanced material handling solutions. Their Autonomous Mobile Robots (AMRs) use a highly sophisticated operating system, "X-Swarm Intelligence," to navigate warehouses and manufacturing facilities and deliver pallets and supplies without needing a centralized fleet management system. This provides…
---
May 24, 2023 What is sheet metal stamping? The technique of turning sheets of metal into a useful part or component is called sheet metal stamping and is one of the first stages in the automotive assembly process. This is a process in which Helukabel completes regularly. The metal is fed into a press, where… Read More…

May 23, 2023 By Krystie Johnston Who is AGILOX? AGILOX is one of the fastest-growing manufacturers of innovative advanced material handling solutions. Their Autonomous Mobile Robots (AMRs) use a highly sophisticated operating system, "X-Swarm Intelligence," to navigate warehouses and manufacturing facilities and deliver pallets and supplies without needing a centralized fleet management system. This provides… Read More…
Featured Article
Purchasing a Pick and Place Cobot: An Overview of the Benefits, Return on Investment, Pros and Cons, and Gripper Options
As a warehouse or factory owner, you are always looking for ways to improve efficiency, reduce costs, and increase productivity. Investing in a pick and place Cobot could be the solution you have been searching for.
Here you can learn about a few of the key benefits of pick and place Cobots:
---
Battery cell production with XTS and PC-based control May 25, 2023 Low-cost lithium-ion battery cells (LIB) are the key to mass electromobility, although the manufacturing process has always been a cost driver – until now. Researchers at TU Berlin are using continuous Z-folding to replace the traditional pick-and-place movements that have been used so far,… Read More…

May 25, 2023 The cobot pioneer will also celebrate its second representative to receive the Engelberger Robotics Award, the 'Nobel Prize of Robotics,' as Global Technical Compliance Officer Roberta Nelson Shea joins the company's co-founder for this prestigious recognition. Universal Robots (UR) is not only the most widely used collaborative robot arm in the manufacturing industry,… Read More…
Featured Product
SurgePure Industrial Surge Protection for Mission Critical Environments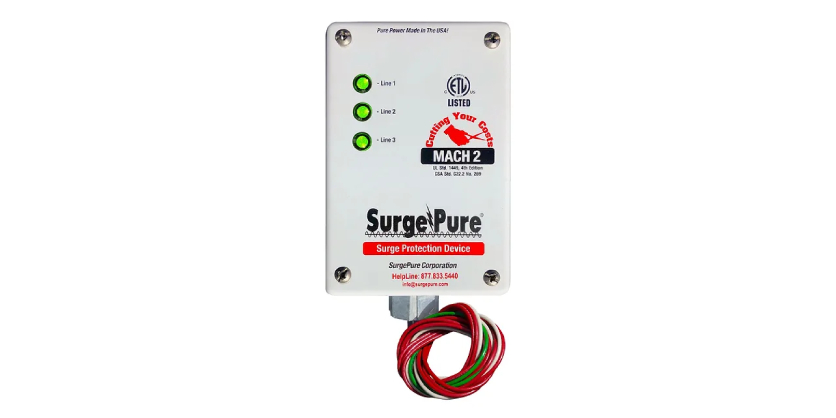 SurgePure's industrial surge protection devices are rated foremost in the industry because of their unique 'Non-Degrading' design.
You won't be left second-guessing if you're protected or not with SurgePure's premium 'Single-Element' surge protection systems.