New Crossed Roller Bearing from IKO Combines Ultra Small Size and Rigidity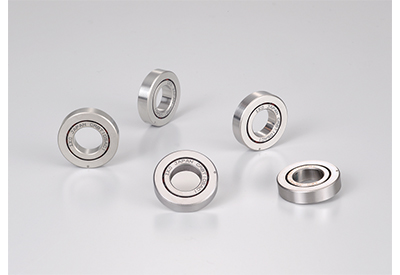 October 25, 2021
IKO International has unveiled its newest crossed roller bearing — the CRBT105A. This ultra-small, ultra-thin unit is designed to provide exceptional rigidity for space-constrained automated machine designs.
The CRBT105A features a 10 millimeter bore diameter, 21 millimeter outside diameter and a narrow width of 5 millimeters. Despite its compact size, the CRBT105A offers rigidity up to four times greater than double-row angular contact ball-type bearings. This combination of small size and high rigidity makes the CRBT105A suitable for robots with articulating arms as well as compact surveillance cameras.
With rollers alternately crossed at right angles to each other between inner and outer rings, the CRBT105A produces a greater contact surface to allow the bearing to handle heavy or complex loads from any direction simultaneously. This orthogonal roller arrangement results in a bearing that occupies just half the sectional area of rear-mounted, 45-degree contact angle single-row roller or ball-type bearings.
The CRBT105A also features:
– Separators between cylindrical rollers to provide smooth rotation.
– Dynamic load rating of 1,120N and static load rating of 811N.
– Small coefficient of friction for high-speed rotation.
– Lightweight design.
Crossed Roller Bearings are advanced products that are ideal for space-constrained automated machine designs. In addition to the ultra-small, ultra-thin CRBT105A, IKO also offers a wide range of rigid, compact crossed roller bearings that are well-suited for machine tools, industrial robots, medical equipment and other precision applications.
For more information, visit www.ikont.com.