Industry Embracing New Possibilities With Festo's Revolutionary Motion Terminal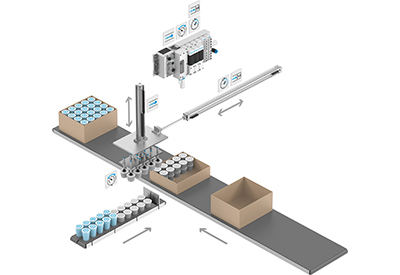 January 14, 2021
As a standard-bearer for an entirely new type of pneumatics, the revolutionary Festo Motion Terminal (VTEM) is challenging engineers to re-imagine processes to capture some of its many economic and operational benefits. Just as the smartphone turned the mobile communications market on its head over a decade ago, VTEM's digital pneumatics is capable of delivering sweeping upgrades to common automation processes like pick and place, dosing, machining and parts handling and assembly and much more.
Digital pneumatics is more precise and considerably more flexible than standard pneumatics. On a life cycle basis, it can perform many applications more efficiently and cost-effectively. VTEM software apps enable extremely fast changeovers for different sizes or shapes of workpieces, products or packaging. Adjustments that take hours with conventional pneumatics can be completed in minutes, and all processes can be managed, or reconfigured, remotely. The function integration achieved by software apps and the piezo valve technology in the Motion Terminal dispenses with the need for up to 50 downstream components – sensors, regulators, flow control valves, shock absorbers, and more.
The 11 available VTEM motion apps establish the parameters for functions such as proportional and directional valve control, proportional pressure control and selectable pressure levels, positioning, supply and exhaust air flow control, presetting time travel and soft stop. There also are apps for energy optimization and leakage diagnostics.
Here's an example of how VTEM is streamlining automation in the real world. Autec, an Italian manufacturer of automation systems for shoe and leather goods factories, incorporated VTEM into a new machine for assembling credit card slots for wallets. The machine controls the gluing of two pieces, one leather, one silk. A servo robot then transfers the glued pieces to a leather-folding machine. In this space-saving, compact solution, eight credit card slots can be glued and folded in 14 seconds. The error rate associated with manually manufacturing these slots has been eliminated and optimum use is made of raw materials. "Reconfiguring the Festo Motion Terminal is now extremely fast," says Ilario Barsacchi, project manager at Autec. "Instead of ordering, installing and reconfiguring additional proportional valves, all we have to do is activate an app."
The app enables a fast change in the tool function from suction gripper head to gripper head with pin terminal as the piezo valves can be used both as proportional valves and as control valves. The system is then just like a reprogrammable piece of hardware and the software content is adapted to the relevant application. The days when a valve only had a single function are over. The system is just like an easily reprogrammable piece of hardware.
Motion apps give designers a great deal of freedom. With all that VTEM offers, there is no limit to what designers can conceive of to make automated systems better and Industry 4.0-ready.
For more information, visit www.festo.com.